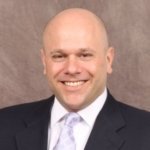 Managing Director
Bank of America Merrill Lynch
New York, NY
John Bell '95 is a managing director and head of Americas Account Management for Bank of America Merrill Lynch. He and his team are responsible for managing the prime brokerage clients of the firm's Asset Management Services business. He joined the firm in 2006 to launch the firm's prime brokerage offering in San Francisco, where he was responsible for origination sales and relationship management. Bell has more than 20 years of experience in financial services. He began his career at Bear Stearns in New York and has also held leadership positions with Citi and DLJ Securities Corp. in San Francisco.
Bell served as vice president of the St. Mary's College of Maryland Foundation from 2014-2017, after joining the board in 2012. He has served as chairman of the board of the Edgewood Center for Children & Families and was a founding sponsor of the GLBT History Museum in San Francisco. He also serves on BofA's Global Banking & Markets Diversity & Inclusion Council and the BofA LGBT Executive Leadership Council.
Bell earned his B.A. in public policy from St. Mary's College of Maryland, and was awarded an executive education certificate in governing for nonprofit excellence from Harvard Business School.
Bell grew up in Havre de Grace, MD and currently resides in New York, NY and Stockton, NJ.