Password for all Zoom and webinar meetings: SMCMAW20
FRIDAY, JULY 31, 2020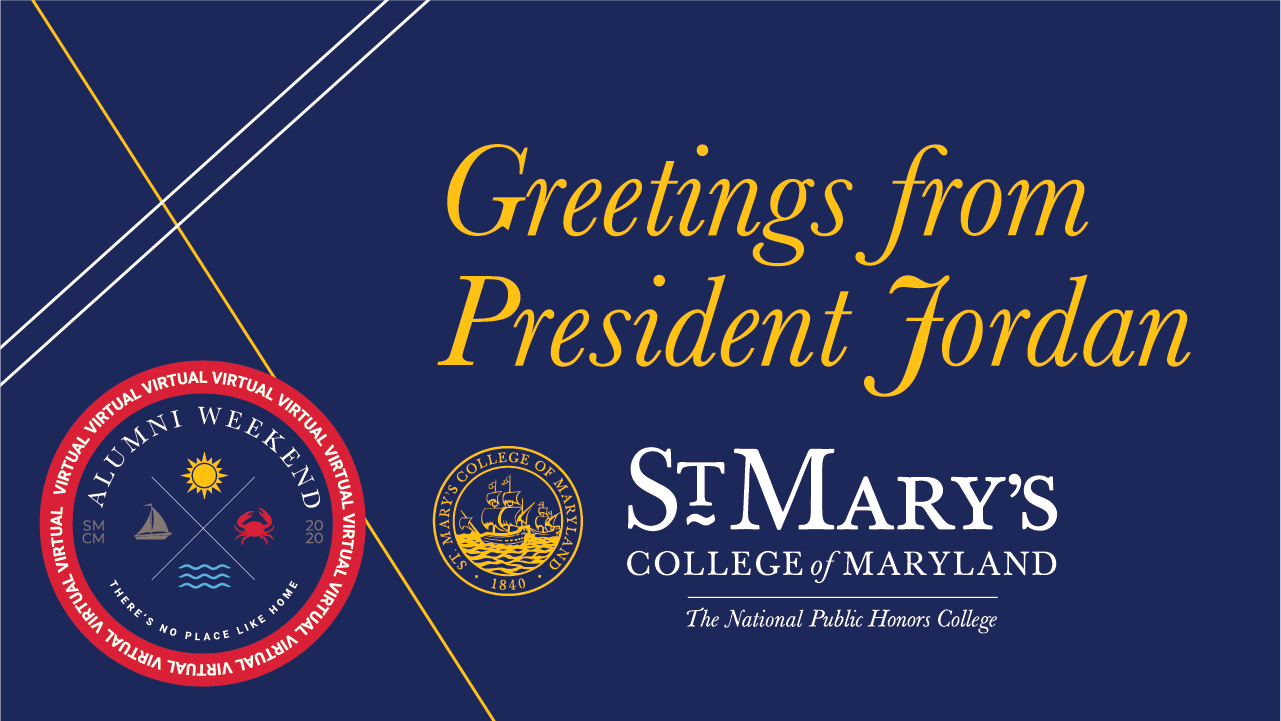 Greetings from President Jordan, 3 p.m.
Check your email! President Tuajuanda C. Jordan filmed a prerecorded message with well-wishes from campus, especially to the 2020 grads and those celebrating an anniversary milestone.
Watch the President's Welcome on YouTube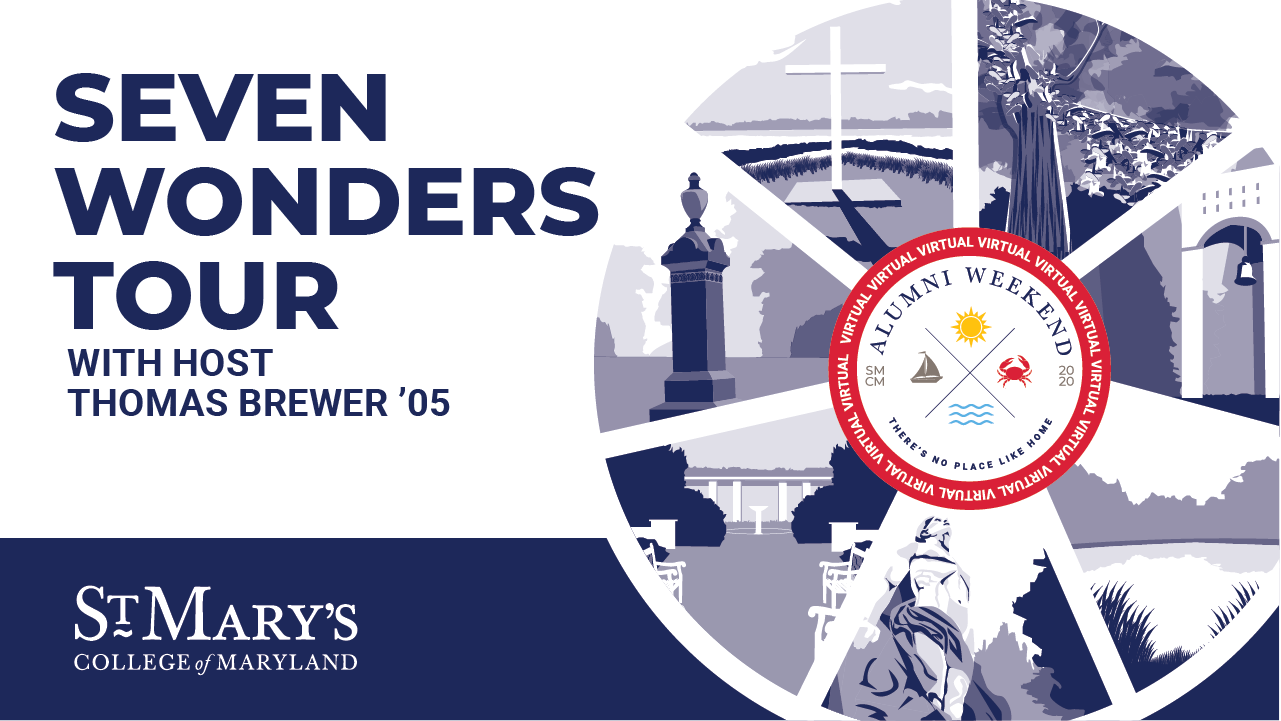 Seven Wonders Tour, 5 p.m.
Check your email! Host Thomas Brewer '05 and Solomon Seahawk will take you on a trip down memory lane through this prerecorded tour of the most iconic places on campus, with fun facts about each location that you may not know and toasts to notable campus groups.
Watch the Seven Wonders Tour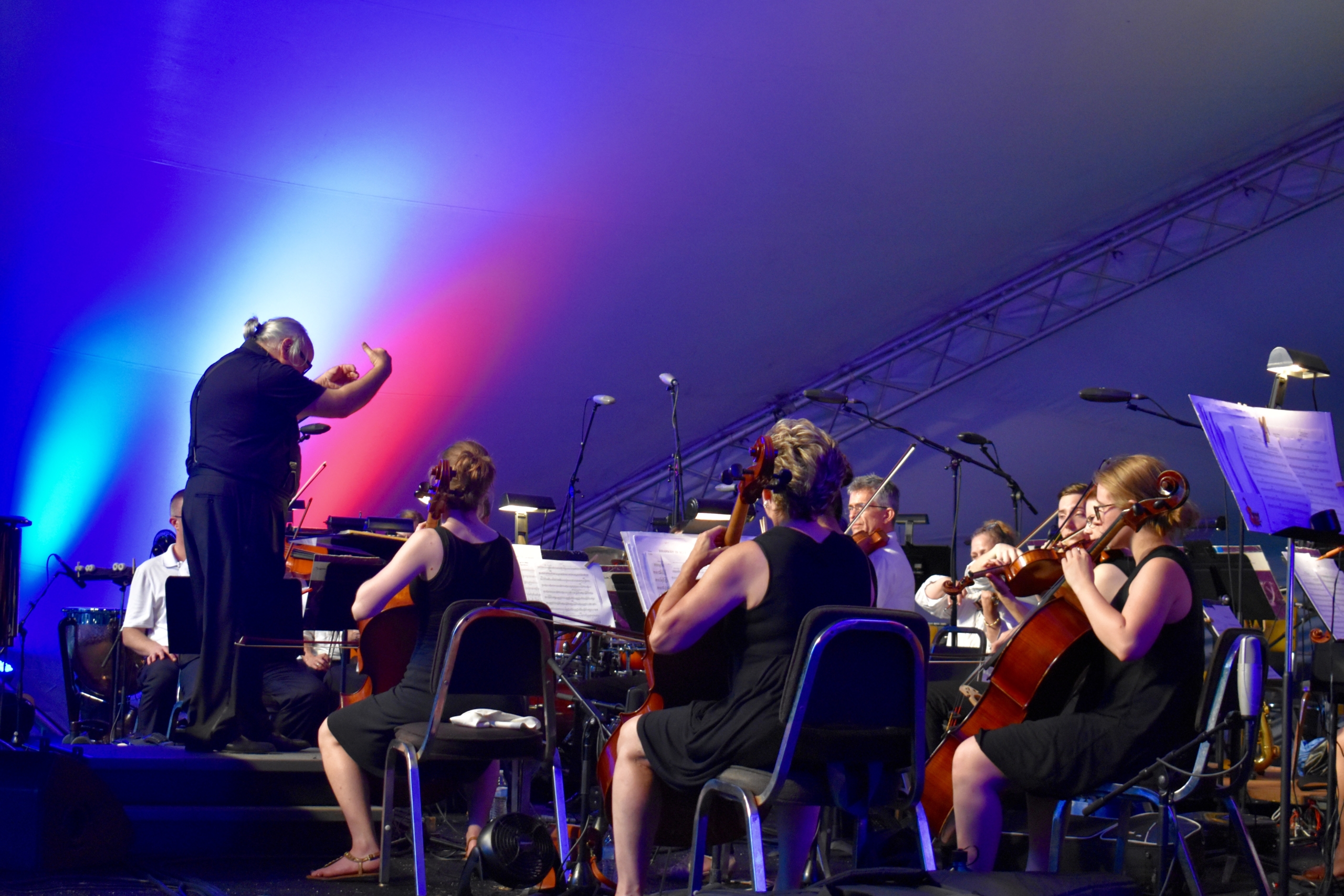 Virtual River Concert Series, 7 p.m.
Tune in to "It's a St. Mary's Thing – Our Brand," featuring a veritable who's-who of St. Mary's College musical alumni. Alumni include: Paul Reed Smith '75 of PRS Guitars, Don Stapleson '80, sax; Sara Jones '98, vocalist; Rick Humphreys '79, sax; Chuck Orifici '97, trumpet; Ross Wixon '10, composer & trumpet; Mark Runkles '04, oboe; Peter Fields '79, guitar; Rie Moore '19, piano; Gino Hannah '13, Ari Pluznik '16, and Zachary Silberschlag '11, trumpet.
Watch the show on the River Concert Series webpage
SATURDAY, AUGUST 1, 2020
Password for all Zoom and webinar meetings: SMCMAW20
Alumni in Action, 9 a.m. – 9:45 a.m.
Kick off your day with these virtual training sessions from the comfort of your home. No experience necessary! Just grab a water bottle and yoga mat (recommended, but not required) The Zoom meeting login information will be emailed to all who register in advance.
Preregistration Recommended by 7/29 – Space is Limited
Strikefit
Get energized for your day through this combination of boxing, kickboxing, conditioning, and self defense, led by Teddy Bisrat '11.
Strikefit on Zoom / recording to be posted once available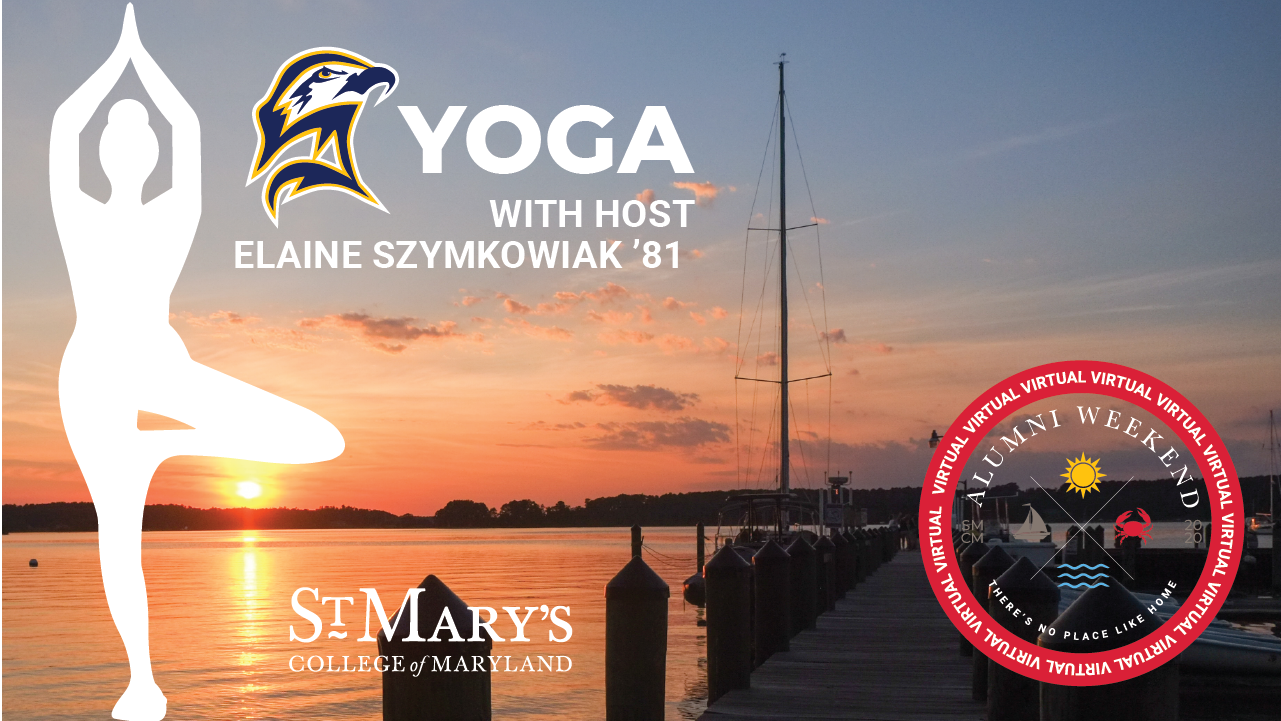 Yoga
Start the day with a yoga session focusing on flexibility and mindfulness to help reduce stress and gain mental focus, led by Elaine Szymkowiak '81.
Yoga on Zoom / recording to be posted once available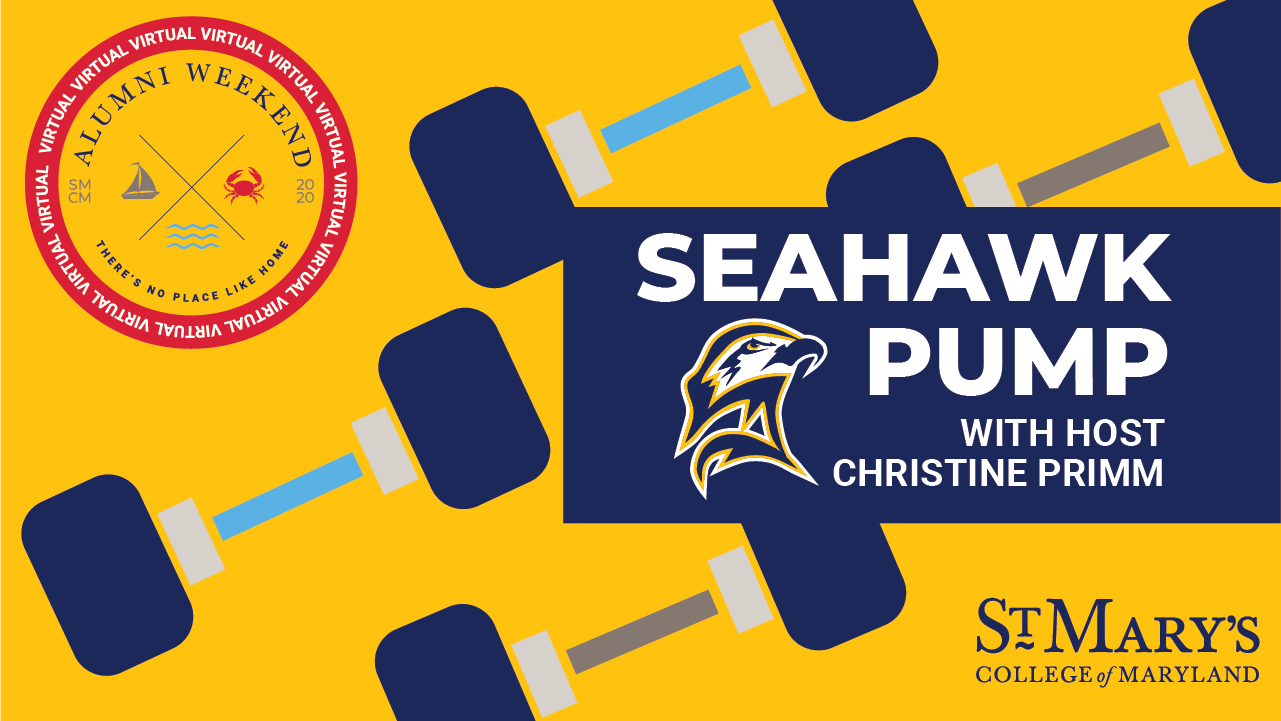 Seahawk Pump
Bulk up with this total body weight lifting workout using various weights (3 to 10 pounds, if available), led by Christine Primm.
Alumni College, 10 a.m. – 3 p.m.
Increase your knowledge of these timely topics as we adjust to going out less and staying in more. No experience necessary. To participate, make sure you have the recommended items in advance. Prizes will be awarded to lucky participants who post photos of their finished projects to #SMCMAW20 – tune in live for the details.
Preregistration Recommended by 7/29 – Space is Limited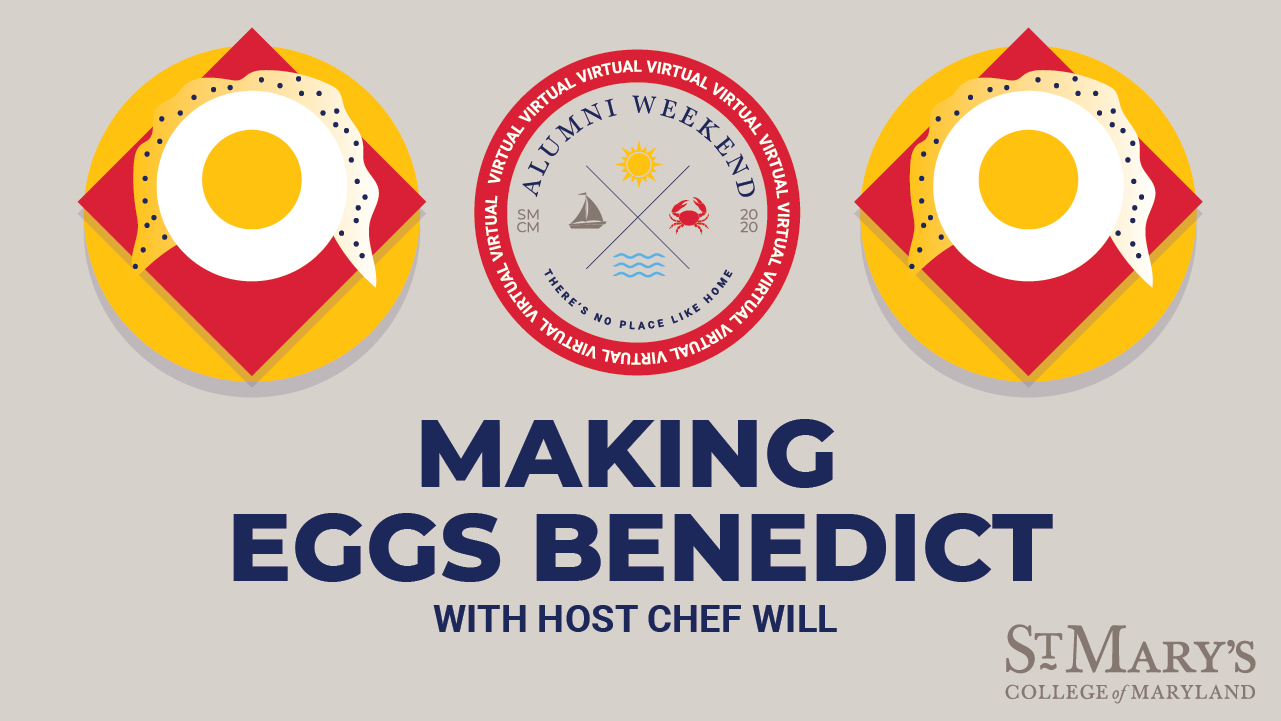 Making Eggs Benedict, 10 a.m. – 10:45 a.m.
Impress your friends and family by poaching the perfect egg and making the best Hollandaise sauce from scratch for this classic breakfast sandwich. Follow along with Bon Apetit's Chef Will through this step-by-step tutorial.
General Items
two 4-qt. sauce pans
slotted spoon
double boiler (or stainless mixing bowl over 4-qt. saucepan with water)
measuring spoons
measuring cups
baking sheets
whisk
tongs
non-stick skillet
serving plate
Ingredients
4 eggs yolks
3 1/2 tablespoons lemon juice
1 pinch ground white pepper
1/8 teaspoon worcestershire sauce
1 tablespoon water
1 cup butter
1/4 teaspoon salt
8 eggs
1 teaspoon distilled white vinegar
8 strips canadian style bacon
4 english muffins, split
2 tablespoons butter, softerned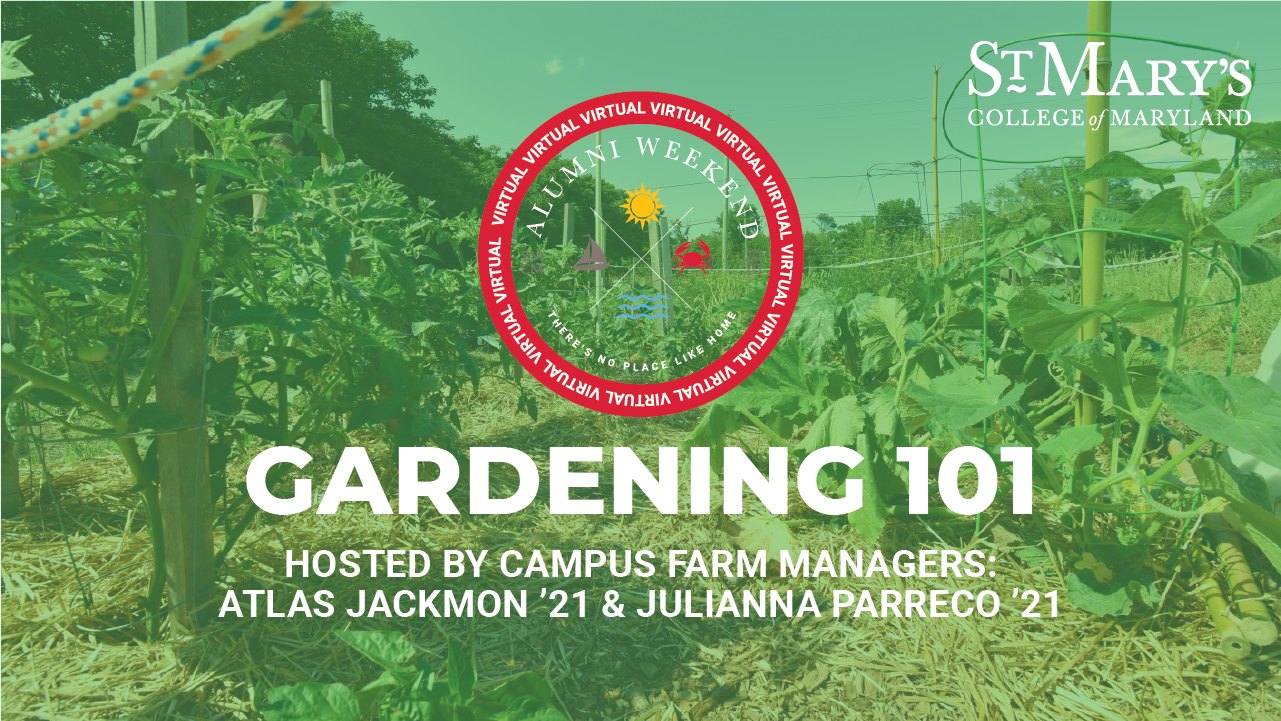 Gardening 101, 11:15 a.m. – 12 p.m.
Join Kate Chandler Campus Farm Managers Atlas Jackmon '21 and Julianna Parreco '21, for valuable tips on how to start or perfect your home composting program, and how you can turn common household items into useful tools from your garden. Perfect for new and experienced green thumbs alike.
Items to Start a Garden and Home Composting Program
gloves
dirt or potting mix (you can dig out an area to create a compost ditch and use the soil for planting pots or raised beds)
eggshells from the previous tutorial!
Household Items to Repurpose
old serving spoons, paint mixers, or bowls – for a trowel to dig
empty pen/pencil – to create little holes for seed sowing
empty toilet paper tubes – for seed starters or a compost ingredient
old tires – for hanging planters, or a grow "box"
screen door/baby crib/mattress springs – for a garden trellis
old trash cans – for a rain barrel
tin pots/old tupperware/yogurt containers – for potting plants
shower caddy – for a vertical planter
broken/old dishes – for garden stones
old bathtub/sink – for a garden pond/pool/bird bath
old tire rim – for a repurposed hose holder
old wood pallets – for raised garden beds for lettuce and other vegetables, or hang them and make shelves for herbs, flowers and garden accessories
pasta water – good for fertilizing plants (make sure to dilute before pouring on)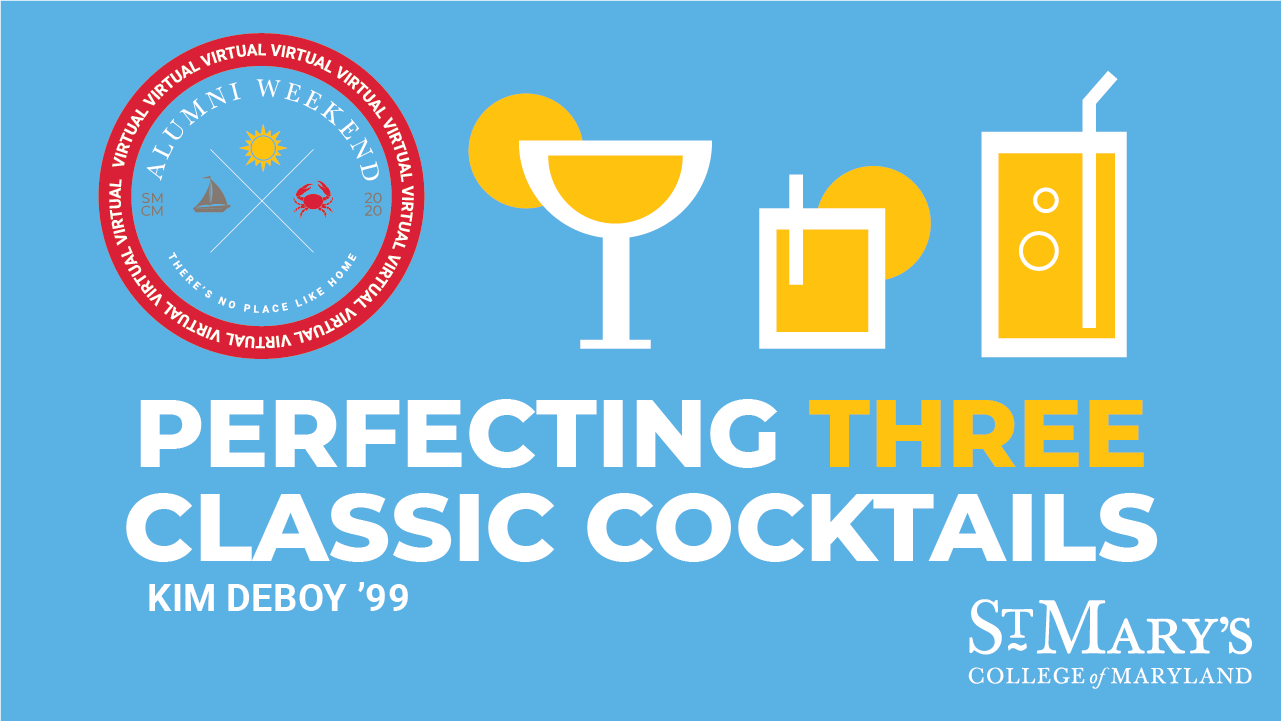 Perfecting Three Classic Cocktails, 12:30 p.m. – 1:15 p.m.
Learn how to make three classic cocktails you should know how to make, but probably don't. This tutorial, led by mixologist Kim DeBoy '99, will teach you the basics of classic cocktail structure, mainly so you can break the rules and make each one your own.
General Items
shot glass, jigger, or a good eye
pint glass and tin shaker or Mason jar with lid
juicer of any kind: manual, electric, your two hands and a fork
knife and cutting board
stove or microwave
whatever serving glasses make you happy, and a pitcher
ice
Classic Margarita Ingredients
tequila
triple sec (any orange liqueur, or just orange juice)
limes, 3 for single, 12 for pitcher (or limeade. NO PREMADE MIX!)
agave (or simple syrup)
Bonus items: kosher salt, watermelon, jalapeno, Grand Marnier
Tom Collins/Gin Fizz Ingredients
gin (any kind/quality)
lemons
simple syrup
club soda (or any flavored fizzy water you enjoy)
Bonus items: egg white to turn the Collins into the Fizz, orange slices, maraschino cherries
Whiskey Smash Ingredients
bourbon
mint
lemons
simple syrup
blackberries
Note: This recipe can be easily customized with any other berry, and herbs like rosemary and basil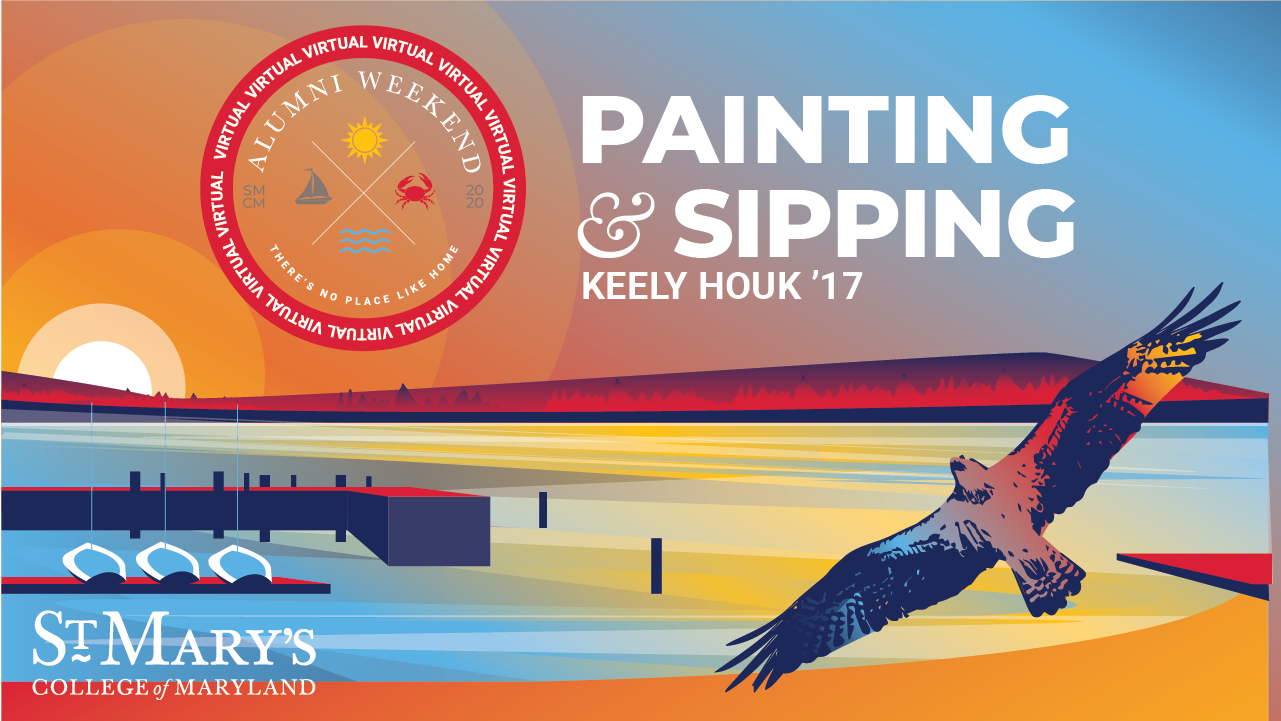 Painting & Sipping, 1:45 p.m. – 3 p.m.
Grab your acrylic paints, brushes, canvas, and drink of choice, and join the College's very own Senior Graphic Designer Keely Houk '17, for a virtual paint-along session. We'll be doing a serene SMCM scene, so get ready to relax and ART!
Items
pencil
craft paints, acrylic paints, or even assorted latex house paints
paint brushes of a few different sizes
canvas, a piece of wood, a metal tin or tray, or an old store bought canvas artwork that you paint over (if it's not a light color, paint it white and let it dry before class)
jar of water
paper towels
old towels or trash bag to protect your painting surface
duct tape
ruler or triangle ruler
hair dryer (optional)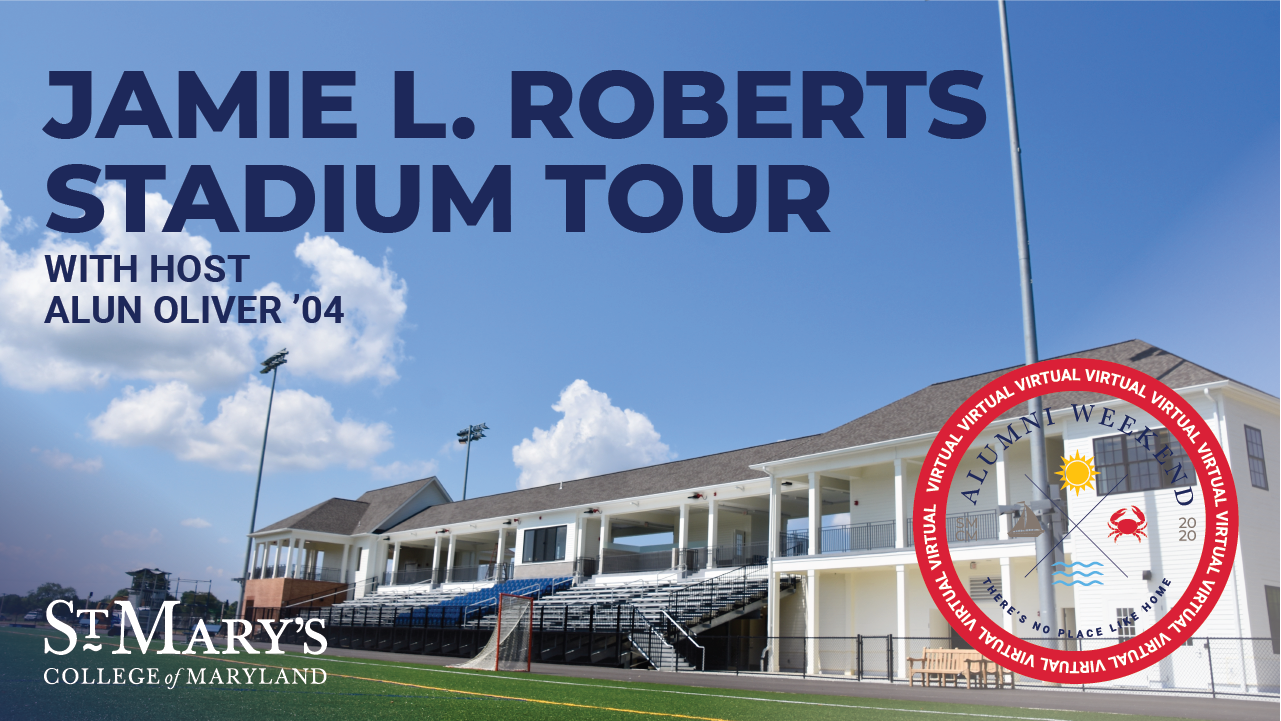 Jamie L. Roberts Stadium Tour, 4 p.m.
Check your email! Head Men's Soccer Coach and Outdoor Athletics Facilities Director Alun Oliver '04 joins Solomon Seahawk to give you an insider's tour of the Jamie L. Roberts Stadium through this prerecorded video. This newly dedicated facility is home to our five outdoor sports teams and provides countless recreational opportunities for the campus and local communities.
Watch the Jamie L. Roberts Stadium Tour on YouTube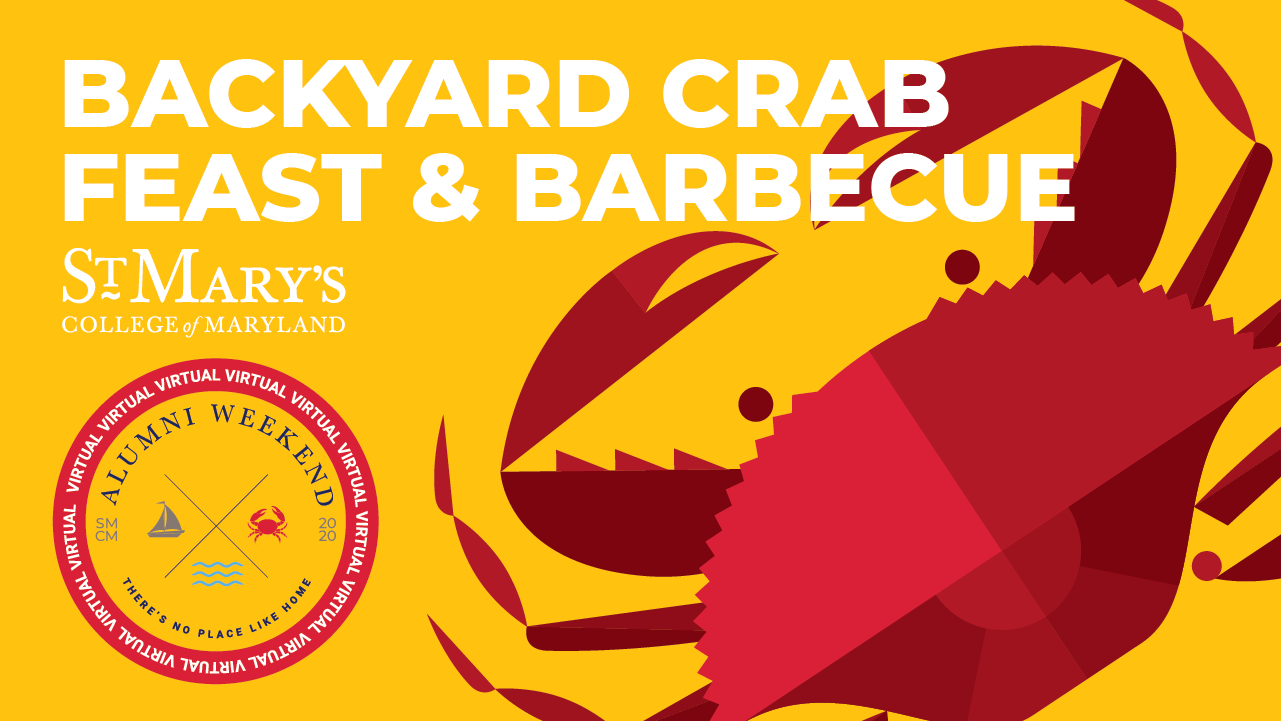 Backyard Crab Feast and Barbecue, 5 p.m. – 7 p.m.
Order crabs from your local vendor and/or prep your favorite barbecue picnic foods, then join the socially-distanced Alumni Relations team on Facebook Live. During these two hours, we want you to post photos of the fun to #SMCMAW20 for a chance to win four tickets to next year's Alumni Weekend Crab Feast and Barbecue (includes bottomless pint glasses!). For the greatest chance to win, sport your favorite SMCM gear and show your school pride as you know best.
Follow the St. Mary's College of Maryland Alumni Facebook page to watch!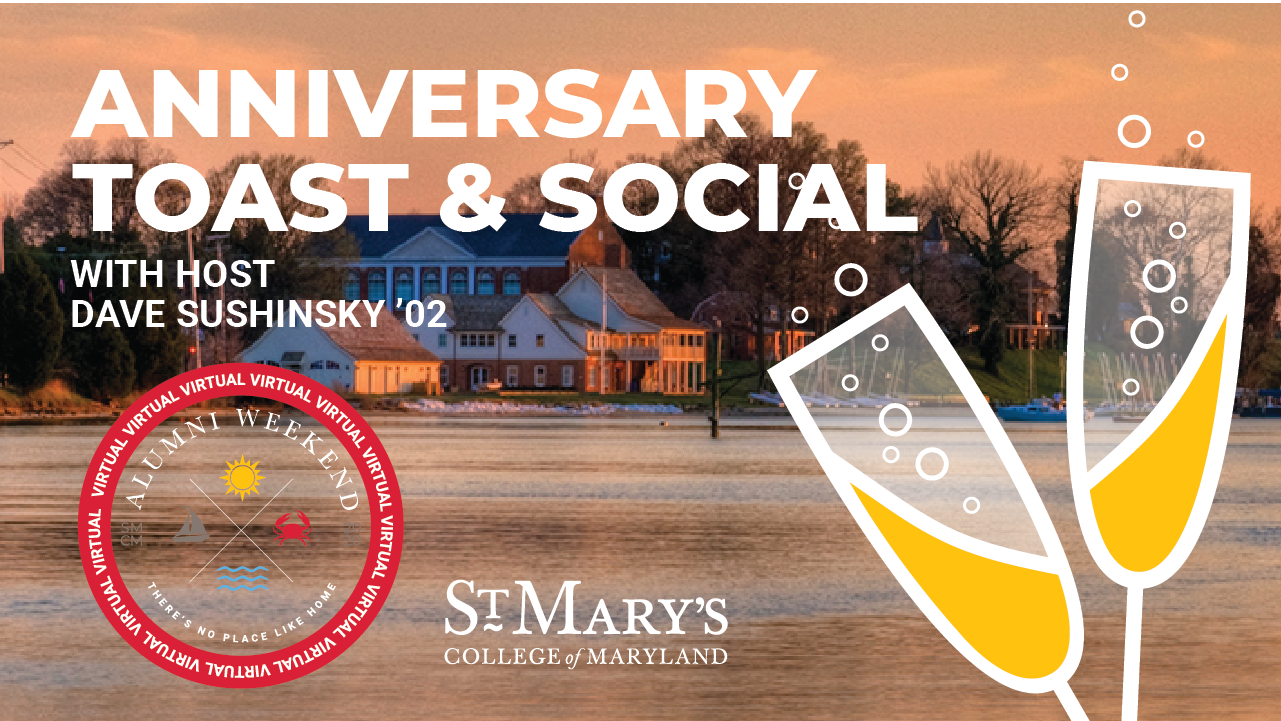 Anniversary Toast & Social, 7:30 p.m. – 9 p.m.
Catch up with your classmates and celebrate your anniversary milestone during this virtual social through Zoom. Director of Alumni Relations Dave Sushinsky '02 will offer a toast to all anniversary alums (classes ending in '0' or '5'), and then you can join your old friends through our virtual breakout rooms.
Preregistration Recommended by 7/29 – Space is Limited
Join the Anniversary Toast & Social / recording to be posted
Live Music, 9 p.m. – 10 p.m.
Enjoy this Facebook live streaming performance by Caleb Stine and the Nearby Alumni (composed of Audrey Hamilton '08, Jim Hannah '81, and special guest Gino Hannah '13). Caleb's style is uniquely his own as he spins lyrical tales from the road, hardship, and even butter. The set will include both original music and covers you know and love (living room dancing in pajamas is more than acceptable). Especially during these unprecedented times, Caleb's music resounds hope, heart, and humanity.
Follow the St. Mary's College of Maryland Alumni Facebook page to watch!