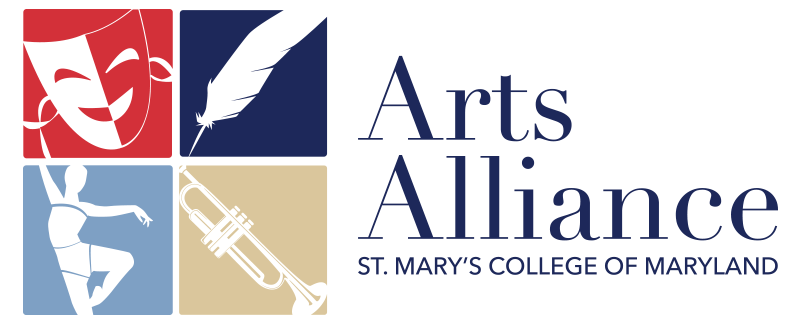 The Arts Alliance of St. Mary's College of Maryland was created to promote and support cultural and arts-related activities and programs at the college for the enrichment and enjoyment of the Southern Maryland Community.
What does the Arts Alliance do?
Sponsors the River Concert Series
Funds arts-related grants for St. Mary's faculty members and guest artists
Awards cash prizes to outstanding St. Mary's students in the arts
Organizes arts outreach programs to schools and community groups
Supports the development of the college art collection
Share your passion
If you share our passion for the arts, we would love to have your assistance as a member of one of our four volunteer committees.
Arts Bridge Committee (chaired by Susan McNeill)
This committee helps to facilitate high school student workshops in poetry, visual and performing arts, music, and theater hosted throughout the academic year on our campus and taught by St. Mary's College faculty.
Grants and Awards Committee (chaired by Kimberly Westcoat)
This committee reviews faculty and staff applications for funding to support arts related programs on campus and stewards scholarship awards for high- achieving St. Mary's College students in the arts.
Events Planning Committee (chaired by Marie Franklin)
This committee helps plan and promote member exclusive events and activities.
River Concert Committee (chaired by Ginni Stein)
This committee works to support the River Concert series by coordinating volunteers for staffing the Arts Alliance information tent, passing out programs and solicitating donations from the audience.
If you are interested in joining one of these committees, please contact Linda Jones, Arts Alliance Liaison at (240) 895-3246 or artsalliance@smcm.edu.
Member Benefits
Monthly e-newsletter with up-to-date information on campus arts and cultural events
Discounted tickets to select events
Invitations to exclusive members-only events
A College parking permit for use for parking on campus during the academic year (September-May)
Become a Member or Renew Your Membership
Join or Renew by phone:
Please call (240) 895-4191
Join or Renew by Mail
Download the Membership Form (PDF), print, complete and send by mail to:
Arts Alliance
18952 E. Fisher Road
St. Mary's City, MD 20686