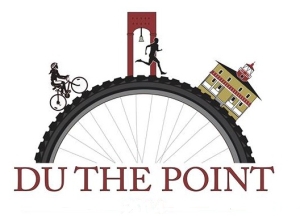 Du the Point is an annual duathlon held in southern St. Mary's County to benefit Christmas in April. This year's event will be held on Saturday, April 9th at 8:00 am. The course consists of a 3.1 mile run followed by a 26 mile out-and-back scenic bicycle ride to Point Lookout State Park Lighthouse. Riders are required to wear a helmet. You can participate in both parts or combine with a friend to do a relay event.
Individual Student/Alumni: $20

Relay Student/Alumni: $30

Individual Non-Student: $30

Non-Student: $40
Proceeds
Proceeds from this event will be donated to the Christmas in April St. Mary's County Chapter. Christmas in April St. Mary's County, Inc. in partnership with the community, rehabilitates the houses of low-income homeowners, particularly the elderly and disabled, so that they may live in warmth, safety, and independence. We also provide help through work on community projects.
About Christmas in April
Christmas in April St. Mary's County was started in the summer of 1990, when John K. Parlett, Jr., welcomed family, friends, and community leaders to a presentational meeting about this national program. After months of planning and preparation, in April 1991, over 700 individuals volunteered their time and talents and repaired 26 homes of low-income, elderly, and disabled individuals living throughout our county.
Many of the home repairs focus on: (1) accessibility issues—building or repairing wheelchair ramps; (2) repairing or replacing old and deteriorating roofs; and (3) safety concerns such as the need for hand-railings, smoke alarms, CO monitors, and fire extinguishers.
Among other repairs are: replacing or repairing windows and doors; installing hand railings and grab bars; carpentry and siding work; repairing interior and exterior walls; sheetrock work to repair ceilings and walls; replacing door knobs and faucets; rebuilding entranceways for safer access to and from the homes; enlarging doorways to bathrooms, giving homeowners in wheelchairs easier access; enhancing poor lighting or repairing dangerous electrical outlets and fixtures; and plumbing repairs.