Thursday, June 23 – Saturday, June 25, 2016

Golden & Beyond Reunion is similar to Alumni Weekend, but more intimate and designed specifically for our alumni who graduated 50 years ago or more.  In its inaugural year in 2015, nearly 50 alumni returned to their home on the river to reunite with old friends, learn about new College developments, and rediscover the beauty of the St. Mary's campus.  With opportunities to engage with President Jordan at a special luncheon and enjoy world-class music performed by the Chesapeake Orchestra at the College's River Concert Series, this is not an event you will want to miss!
New for 2016!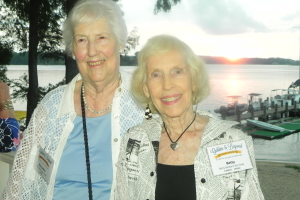 Thanks to your feedback, we have some exciting new changes this year, including:
Additional housing options
Tours of the new Anne Arundel Hall
A Thursday evening kick-off reception on the waterfront
A special presentation by President Jordan
A narrated boat tour of the St. Mary's River
…and much more!  Check out the Schedule of Events to see it all!