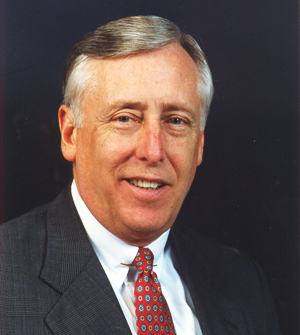 Congressman
U. S. House of Representatives
Mechanicsville, MD
Steny Hamilton Hoyer holds the position of U.S. Representative, representing the Fifth Congressional District of Maryland, a position he has held since 1981. Through his committee assignments and leadership positions, Congressman Hoyer has aggressively advocated for his district's constituents and also is a respected voice on national and international issues. He served as House Majority Leader from 2007-2011 and House Democratic Whip from 2003-2007. After being elected Majority Leader, Hoyer took a leave of absence from his seat on the House Appropriations Committee, where he previously served on the Subcommittee for Transportation, Treasury and Housing, and the Subcommittee on Labor, Health and Human Services, Education, and Related Agencies.
Hoyer received his bachelor's degree from the University of Maryland in 1963 and his J.D. from Georgetown University Law Center in 1966. Upon graduation from law school, he became a practicing attorney. In 1966 he was elected to the Maryland State Senate and served there from 1967 to 1978. In 1975, he was elected president of the Maryland Senate and served as the youngest person to hold this position. He served on the Maryland Board of Higher Education from 1978 to 1981.
Congressman Hoyer has been a member of the St. Mary's College of Maryland Board of Trustees since 1995. He is also a former member of the Board of Regents of the University System of Maryland and the United States Naval Academy Board of Visitors.
Hoyer and his wife, the late Judith Pickett Hoyer, have three daughters, three grandchildren, and two great-grandchildren. He lives in Mechanicsville, Maryland.