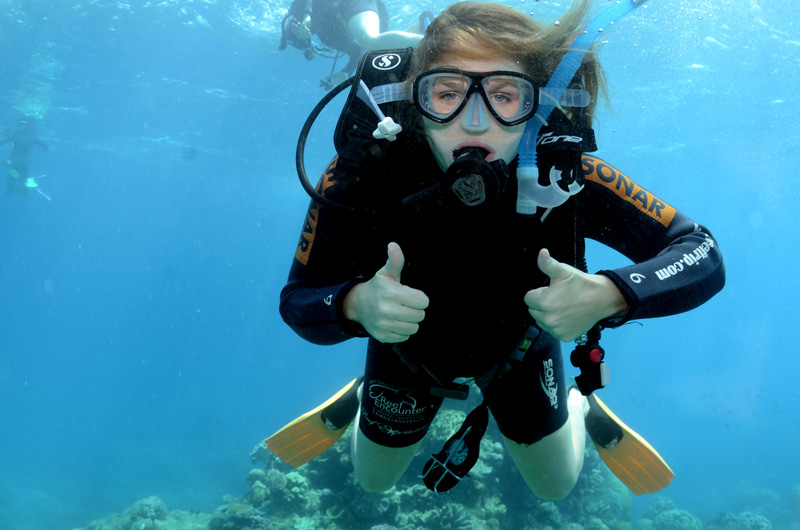 Pre-Requisites
Minimum GPA: 2.8
Judicial Check
Dates:
Spring 2024 Program Dates: Early February – Mid June

SMCM and JCU Application Deadline: October 15th
Highlights
2 campuses, Townsville and Cairns
Courses available for all SMCM disciplines including science majors
Guaranteed Housing in JCU Residence Halls
Financing Studying Abroad
Office of International Education Scholarships (Need-Based, Merit-Based, Region Specific, Language Study)
JCU International Student Scholarships (Merit-Based, STEM)
Speak with the Office of Student Financial Assistance for Options

Established in 1970, James Cook University (JCU) is a leading Australian research university and is ranked in the top four percent of the world's higher education institutions.  The curriculum is dedicated to ensuring that it's teaching, learning and research is of high quality and designed to deliver practical benefits to the local region.  It is a highly diverse community with many nationalities, cultures, religions and languages.  The large international student population comes from over 100 countries.
The University conducts nationally significant and internationally recognized research in areas such as marine sciences, biodiversity, tropical ecology and environments, global warming, tourism, and tropical medicine and public health care in under-served populations.
Location
James Cook University is located in Queensland, the second-largest state in Australia, situated in the northeast of the country. It is surrounded by the spectacular ecosystems of the rainforests of the wet tropics, the dry savannahs, and the iconic Great Barrier Reef.
There are two campus' available to SMCM students: Townsville and Cairns.
Townsville is Australia's largest tropical city with a population of around 185,000.  It is a thriving coastal city and port, and a stepping-off point for visiting the Great Barrier Reef.  The resort regions of the Whitsunday Islands and Mission Beach are within easy reach, as are historic outback towns such as Charters Towers.
Cairns is one of the most popular tourist destinations in Australia.  Attractions include two World Heritage natural environments – the Great Barrier Reef Marine Park and the Wet Tropics ancient rainforests; nearby resort regions include Port Douglas and Mission Beach; the Atherton Tablelands and outback Queensland is within easy reach.
Academics
The academic calendar at JCU is the reverse of that at SMCM.  The first semester of the academic year begins in the third week of February and ends in mid-June.  The second semester begins around the second week of July and ends in late November/early December.
SMCM students are eligible to enroll in most subjects in any study area at JCU, provided that pre-requisites and other requirements are met, allowing you to take courses within your major as well as opportunities to take courses on topics that are uniquely Australian.  JCU's 3-credit courses are deemed to be equivalent to SMCM's 4-credit courses, so most students elect to take 4 courses while they are abroad. (Note: When searching for subjects please search under Teaching Period 1 for spring courses and Teaching Period 2 for fall courses.)
Class structure may be very different from what SMCM students are used to.  Many classes will require students to attend two parts: a lecture and a tutorial.  Lectures may be very large with hundreds of students and involve very little interaction between students and the faculty.  Tutorials are generally much smaller and are reserved for discussion, projects, and group work.  Science classes may also offer a practical (lab) which can be several hours long, once per week.  Depending on the class, you may also find that there are very few assessments throughout the semester, meaning that 60-80% of your grade could be entirely dependent on your final exam.  Excellent time management is required to be successful in your courses at JCU.
Housing and Meals
On the Townsville campus, students are guaranteed on-campus accommodations. Students have the option of living for the estimated program cost at George Roberts Hall, or another subject to cost adjustment. All rooms are private but students share bathrooms and other living spaces.  Students will also be provided with meal plans but there is an on-campus grocery store where students may purchase other snacks and food if they so choose. All students will be required to register for their on-campus housing by the JCU stated deadline. Important: Housing can be competitive at JCU, and usually opens on April 1st for S2. Students are encourage to register as soon as possible and follow JCU and Unilodge communications carefully.
On the Cairns campus, students have the option of living on-campus in the newly-opened John Grey Hall, or off-campus in accommodations such as the Cairns Student Lodge. Meal plans are available in on-campus accommodations, and vary in off-campus accommodations. All students who live on-campus will be required to register for their housing by the JCU stated deadline.
Student Life
Life as a JCU student is much more than attending lectures and tutorials. It's also about meeting new people, having fun and developing lifelong skills.  The International Student Centre is a hub for information for study abroad students.  They offer welcome services and orientation programming as well as support throughout the semester and will advise you about opportunities to get involved on campus.
The JCU Student Association has a number of recognized clubs and societies that include sporting, recreational, and faculty groups. Clubs and societies play an active role in the University community by providing students the opportunity to meet people with common interests and to pursue those interests.
Australia is also one of the few countries in the world where students are permitted to work while studying.  Keep in mind, however, that part-time work may not always be readily available and that there are restrictions on where and how much you are able to work as a facet of your student visa.  Therefore you should not rely solely on part-time work to pay for housing or living expenses.
Important Links
How credits taken abroad will transfer back to SMCM.
The academic and judicial requirements for any student considering studying abroad.
How financial aid will apply towards your study abroad program and what scholarships are available.
Payment processes for semester-long, short-term, and non-SMCM study abroad programs.