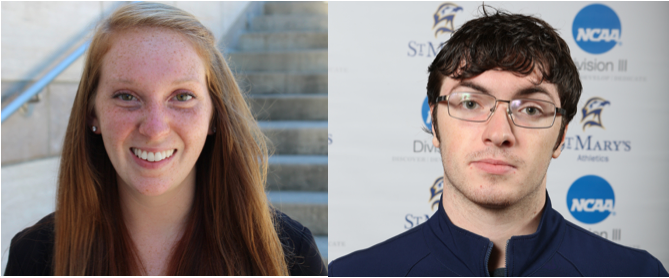 Two students conducting their St. Mary's Project research with Dr. Aileen Bailey, professor of psychology and Aldom-Planseon Honors College Professor, have received grants to support their work. Marilyn Steyert was recently awarded a $918 grant through the Sigma Xi Scientific Research Honor Society to support her research and in recognition of her academic achievement. A graduating senior, Marilyn is majoring in Biology, with minors in Neuroscience and Music. She is continuing past research on the project entitled "Understanding the action of novel fast-acting antidepressant, L-655,708 in the brain" under the guidance of Dr. Bailey. Another student working on research in Dr. Bailey's lab is graduating senior Max Madden, a double major in Biochemistry and Psychology. He has received $1,500 in funding through the Psi Chi Undergraduate Research Grant to support his St. Mary's Project: "Examination of the Mechanism of the Fast Acting Antidepressant L-655,708." Since July 2015, Dr. Bailey's research lab has been primarily funded by the National Institutes of Health, via a subaward with University of Maryland, Baltimore.
Using rats as test subjects, Marilyn and Max are analyzing the effects of a specific drug on synapse strength within neurons in certain areas of the brain. The grant money received from Sigma Xi is being used to visualize and study certain proteins within cells. Changes in behavior and synaptic strength will be analyzed to see the effects of L-655,708 in the rats brain. Marilyn hopes to show the potential of this drug for future use in humans, due to its rapid neurological changes in rats. As with all research conducted on vertebrate animals at St. Mary's College, Marilyn and Max's work was approved by the Institutional Animal Care and Use Committee.
Marilyn is the President of Tri Beta, the Biological Honor Society at St. Mary's College of Maryland, and is also involved in BioPump, a program that supports Biology students' academic success. After graduation, Marilyn hopes to continue her academic education and become a professor. Max was a member of the St. Mary's men's Swim Team and plans to continue his education in graduate school after leaving St. Mary's College. Marilyn and Max are two of many talented students to receive a grant through an honor society here at St. Mary's College of Maryland.