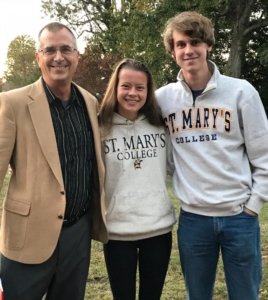 St. Mary's College of Maryland (SMCM) anthropology students Melody Raynaud and Daniel Mehaffey have been selected as inaugural Undergraduate Research Fellows for the American Anthropological Association. Raynaud and Mehaffey are two of only six fellows selected from a nationwide pool of applicants that received the fellowship. Since receiving the fellowship from the American Anthropological Association, a first-year student, Colette Nortman, has joined the team in order to gain first hand ethnographic research experience.
Funded by the Center for Research on College-Workforce Transitions of the Wisconsin Center for Education Research at the University of Wisconsin, Madison, this program supports research projects that use ethnographic or mixed methods to address the question, how do anthropology majors prepare for life after college?
With mentor and professor of anthropology William Roberts, Raynaud and Mehaffey will focus their research on answering questions regarding students' experiences of navigating career development. Their study also explores how building a community of practice among students and faculty at SMCM promotes the development of skills and knowledge that develop graduates' character.
We asked Raynaud what she hopes to gain from this experience and her future directions after graduating from SMCM. Raynaud commented she is hoping the fellowship will enrich her anthropology experience beyond the skills learned in the classroom and hopes this study will help to reinforce how her anthropology degree will help her excel in any career she chooses to pursue.
This study will enable Raynaud and Mehaffey to submit a proposal to present their findings at the annual meeting of the American Anthropological Association jointly with the Canadian Anthropological Association in November, 2019, in Vancouver, British Columbia.
Professor Roberts believes that these fellowships will provide the anthropology department with empirical information that will be useful as the College transitions to a renewed core curriculum, Learning through Experiential and Applied Discovery (LEAD). He also believes that while the department has done well preparing students for life after SMCM, this study will help strengthen the links between SMCM alumni and the department and our current anthropology majors and minors.
This article was written by St. Mary's College of Maryland student and Office of Research and Sponsored Programs Fellow Mackenzie Brooks '21, who adapted Michael Bruckler's January 16, 2019 story published in the SMCM online Newsroom.