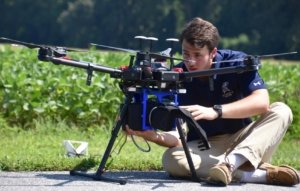 Using drone technology, Luke Quinn '20 spent his summer researching a way to more efficiently survey archaeology sites for magnetic anomalies.
Through an internship with the University of Maryland Unmanned Aerial Systems Test Site (UMD UAS), Quinn, a St. Mary's College of Maryland physics major with a concentration in applied physics, researched the feasibility of attaching a magnetometer to an Unmanned Aerial Vehicle (UAV), commonly referred to as a drone, to survey archaeology sites.
The UMD UAS Test Site takes on five interns each summer. Applicants submit a project proposal with their application. According to information from its website, "summer internships give students an opportunity to work hands-on with researchers and staff on the modeling, design, analysis, simulation, assembly, and experimentation of UAS."
"[Quinn's] work is intriguing because it would allow archaeologists to conduct remote sensing surveys without having to literally be on the ground," said Julia King, St. Mary's College professor of anthropology. Magnetometers are typically hand-held and walked in straight lines over areas being surveyed.
"In the case of southern Maryland, so many important sites are located in actively farmed fields," she said, adding that most farmers support the work of anthropologists but "not when it comes to traipsing through their crops."
Throughout the 11-week program, Quinn has had the opportunity to research, design and build — using a 3D printer — a harness that would attach a magnetometer onto a drone and with assistance from UMD UAS Test Site test engineer Josh Gaus, he was able to test his project at an important archaeological site in Chaptico, recommended by King.
According to King, the site was once occupied by a governor of Maryland in the 1660s until his death in 1679. A previous survey revealed brick foundations, a cellar, and a brick drain. Quinn and faculty adviser Joshua Grossman, professor and chair of the physics department at St. Mary's College, said knowing anomalies have been previously recorded would allow Quinn to have data for comparison. "I had no idea I'd be out here doing research like this. I can't really put it into words," Quinn said during one of his opportunities in the field. Quinn said he was able to take lessons learned about magnetism in Grossman's class and apply them to his research in the field.
Grossman explained that during this internship, Quinn was getting first-hand experience with project management. "That's a highly transferable skill," Grossman said. Grossman explained that aside from the physics and drone skills, Quinn was learning the importance of time management, communication, and figuring out what can be done within the parameters of a fixed budget.
Grossman also commented on the internship's fit with a liberal arts education, "bringing together the engineering and technology and application in the humanities, in this case, archaeology." After his field work, Quinn spent the remaining weeks of his internship analyzing data and matching timestamps from the drone and the magnetometer to determine locations of the readings. He said while the data didn't match with King's initial survey, he still found it helpful to his research and was pleased with his experience. He said he gained a lot of experience working with drones and learning how they operate. He also was able to work with 3D printers and various software packages. Quinn plans to continue this project throughout the Fall 2019 academic semester.