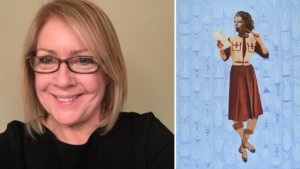 Sue Johnson, professor of art, is one of ten artists who have been awarded a VMFA Visual Arts Fellowship in the professional category for 2020-21. This is an $8,000 award to be used by the artist to support their creative practice, and also includes opportunities for fellowship recipients to exhibit their work at the Virginia Museum of Fine Arts and other museum sites. Veronica Roberts, curator of modern and contemporary art at the Blanton Museum of Art in Austin, Texas was the juror for the professional fellowship entries. A private reception honoring this year's fellows will be held on March 6, 2020 at the museum.
The Virginia Museum of Fine Arts Fellowship Program is a vital source of funding for the visual arts and art history in Virginia. The VMFA is committed to supporting professional artists as well as art and art history students who demonstrate exceptional creative ability in their chosen discipline and, as such, has awarded nearly $5.8 million in Fellowships to Virginians. "The Virginia Museum of Fine Arts Fellowship Program is proud to support student and professional artists working across the Commonwealth," said Alex Nyerges, VMFA director and CEO. "We offer one of the largest fellowship programs of its kind in the United States and recognize this effort as a core part of our mission." The Fellowship Program was established in 1940 through a generous contribution made by the late John Lee Pratt of Fredericksburg. Offered through VMFA Statewide, Fellowships are still largely funded through the Pratt endowment, supplemented by gifts from the Lettie Pate Whitehead Foundation and the J. Warwick McClintock Jr. Scholarship Fund.
Johnson plans to use the award to support material expenses needed to create new works, pursue new exhibition opportunities, and hire a studio assistant.