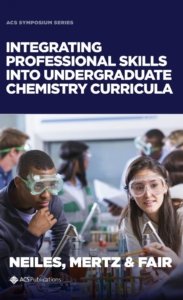 To address the national need of professional skills training for chemists and biochemists, seven faculty members of the Department of Chemistry and Biochemistry authored seven chapters for a recently released American Chemical Society (ACS) Symposium Series book, "Integrating Professional Skills into Undergraduate Chemistry Curricula."
Contributors from St. Mary's College of Maryland included Assistant Professor Geoffrey Bowers, Adjunct Professor Ruth Bowers, Assistant Professor Daniel Chase, Professor Andrew Koch, Professor Pamela Mertz, Associate Professor Kelly Neiles, and Assistant Professor Shanen Sherrer.
The department's complete professional skills curriculum—which spans the first year, first semester course all the way through upper level courses—is described in five chapters of the book, for which Neiles and Mertz—along with Justin Fair of Indiana University of Pennsylvania—served as editors. Authors from nine institutions besides St. Mary's College contributed chapters.
The book defines professional skills as "non-technical skills needed to be an effective chemist/biochemist including, but not limited to, career skills (job searching, resume writing, networking, and having a professional mindset), scientific thinking (critical thinking, problem solving, and big picture thinking), scientific identity development, learning skills (self-regulated learning, initiative, study strategies, etc.), communication skills, and interpersonal skills such as teamwork, collaboration, and leadership development."
The professional skills curriculum written by the St. Mary's College co-authors was developed by all chemistry and biochemistry department members as part of the Council of Undergraduate Research (CUR) Transformations Project funded by the National Science Foundation (NSF-DUE 1625354). Programs involved in the CUR Transformations Project are revising four-year undergraduate curricula in biology, chemistry, physics, and psychology to integrate high-quality undergraduate research experiences.
St. Mary's College of Maryland is one of only 12 institutions selected by CUR for its Transformations Project, a four-year project now in its final year. A team of several faculty and staff members at St. Mary's College is participating. Mertz and Neiles lead the chemistry and biochemistry team, while Aileen Bailey, professor of psychology,  leads the psychology team.
Neiles and Mertz said that while the CUR project is focused mainly on undergraduate research, the College's move toward its Learning through Experiential and Applied Discovery (LEAD) initiative laid the foundation for the chemistry and biochemistry department to take a closer look at using methods from the CUR project to incorporate program specific professional skills into its curriculum.
"I think those two coupled together, the CUR Transformations Project and what was happening on the campus, is how we ended up here, to be honest," Mertz said.
Neiles said she and colleagues began presenting what their department was doing to incorporate these skills into their programs and noticed colleagues and students from other institutions taking an interest. "That's when I knew we had something," she said.
The recently published book was developed from a symposium planned for the 2020 National Meeting of the American Chemical Society in Philadelphia that would address each of the chapters as a talk; however, it was canceled due to the COVID-19 pandemic. The value of the content was such that the ACS continued with the book project.  Neiles said the symposium will run virtually at the upcoming spring ACS meeting.
The book is timely as the ACS Committee on Professional Training is working on new guidelines for professional skills and competencies and the book could help guide programs at other institutions on how to incorporate this training into their curricula.
Neiles and Mertz explained that it is notable that the vast majority of the writing, review process, and editing happened during the pandemic.
"To say we are all proud is an understatement," Neiles said.
Challenges brought on by the pandemic served to test the contributors' own professional skills as they worked to meet deadlines while adjusting to professional and personal changes brought on by COVID-19.
Neiles and Mertz said the co-authors and editors were very supportive of each other during the entire process and were determined to have the project completed by year's end.
"I found that being able to support each other by accepting where the other person was on any given day ended up being incredibly important. There were days where co-authors just couldn't do any writing due to family, COVID, and just life complications. Nobody got frustrated with each other. We just picked up the baton on days we could and let others pick it up on the days we couldn't," Neiles said.
Reflecting on her own experiences with a challenging spring semester and personal life, Mertz said she was extremely happy to see this book being published in 2020, as the accomplishment was a much needed "shining light" on a very difficult year.
For more information on ACS or the ACS Symposium Series book, "Integrating Professional Skills into Undergraduate Chemistry Curricula," go to acs.org.