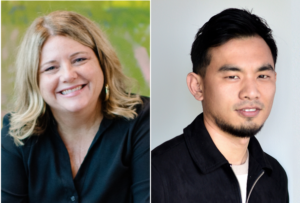 Professor of Art Carrie Patterson and Assistant Professor of Photography Tristan Cai are 2021 recipients of the Independent Arts Awards presented by the Maryland State Arts Council. In addition to the recognition, both will receive grants to support their continued artistic growth. Patterson will receive a regional grant of $2,000 to recognize promise, and Cai will receive an award of $10,000 to recognize notable artistic achievement.
"As an artist and educator, I am always in the practice of communicating ideas, both visual and verbal. And it feels really good when the objects I make have a positive impact on other people," said Patterson. "This award affirms my commitment to continue making work in Maryland and it feels good to be recognized by my peers as a Maryland artist."
"The award encourages me to take more creative risks in my art practice and to dive deeper into the research-based works that I have been creating. I also want to thank MSAC and my colleagues for all their support," said Cai.
This year's awardees were chosen from a pool of 540 applicants through a public panel process. With this year's awards focused on visual and media arts, 2021 awardees represent a wide range of artistic talents from all across the state, from painting, ceramics, and works on paper to digital media, film, and installation. Click here for the full list of winners.
Awardees will be highlighted during the virtual Maryland Arts Awards event at 6 p.m. on Friday, April 16. Visit marylandartscouncil.eventbrite.com for more details.