Grants Management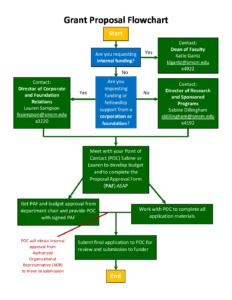 Please see this Grant Proposal Flowchart (PDF) for a brief breakdown of the grant submission process and who to work with on your proposal.
Learning how to fish with ORSP
While ORSP will do individual searches for specific projects upon requests your best chance to find weekly funding opportunities that match your exact need is to set up a search profile with one of the three funding databases to which we subscribe. Once you set up the search profile, you will automatically receive updates with requests for proposals that match your specific profile.
Funding search engines accessible to St. Mary's faculty and staff
Grants Resource Center (GRC)
GRC is a unit of the American Association of State Colleges and Universities (AASCU). Our subscription to GRC provides you with access to a comprehensive suite of tools, services, and expertise to improve your success in securing competitive grants from federal and private sponsors. Specifically, GRC provides another funding database, designed exclusively for GRC member campuses. It was developed to make federal and private foundation grant information accessible and convenient by allowing the user to search the funding opportunity database using five criteria: academic subject, activity, funding sponsor, deadline month, and text.
How to Use
Get your login info from ORSP and check out GRC resources http://www.aascu.org/grclogin/
Go here to access after logging into GRC site… http://www.aascu.org/grc/gs/
Foundation Directory Online
Lauren Sampson, Director of Corporate and Foundation Relations, maintains a subscription to the Professional Foundation Directory Online plan, which includes nine comprehensive databases. In addition to grantmakers, companies, grants, and 990s, Professional's new Power Search tool lets Lauren search RFPs, news, jobs, foundation-sponsored publications, and nonprofit literature. Professional's interactive maps and charts show a foundation's grants geographically—right down to the ZIP code—and by recipient type or primary subject with three levels of detail. If you are interested in exploring this directory, please contact Lauren Sampson (lksampson@smcm.edu, 240-895-3220).
Funding Opportunities and News
Based on information from GRC, Foundation Directory Online, the Maryland Governor's Grants Office and other professional resources, ORSP will provide weekly updates on grant announcements & upcoming funding deadlines as well as general news related to external funding and grant competitiveness.