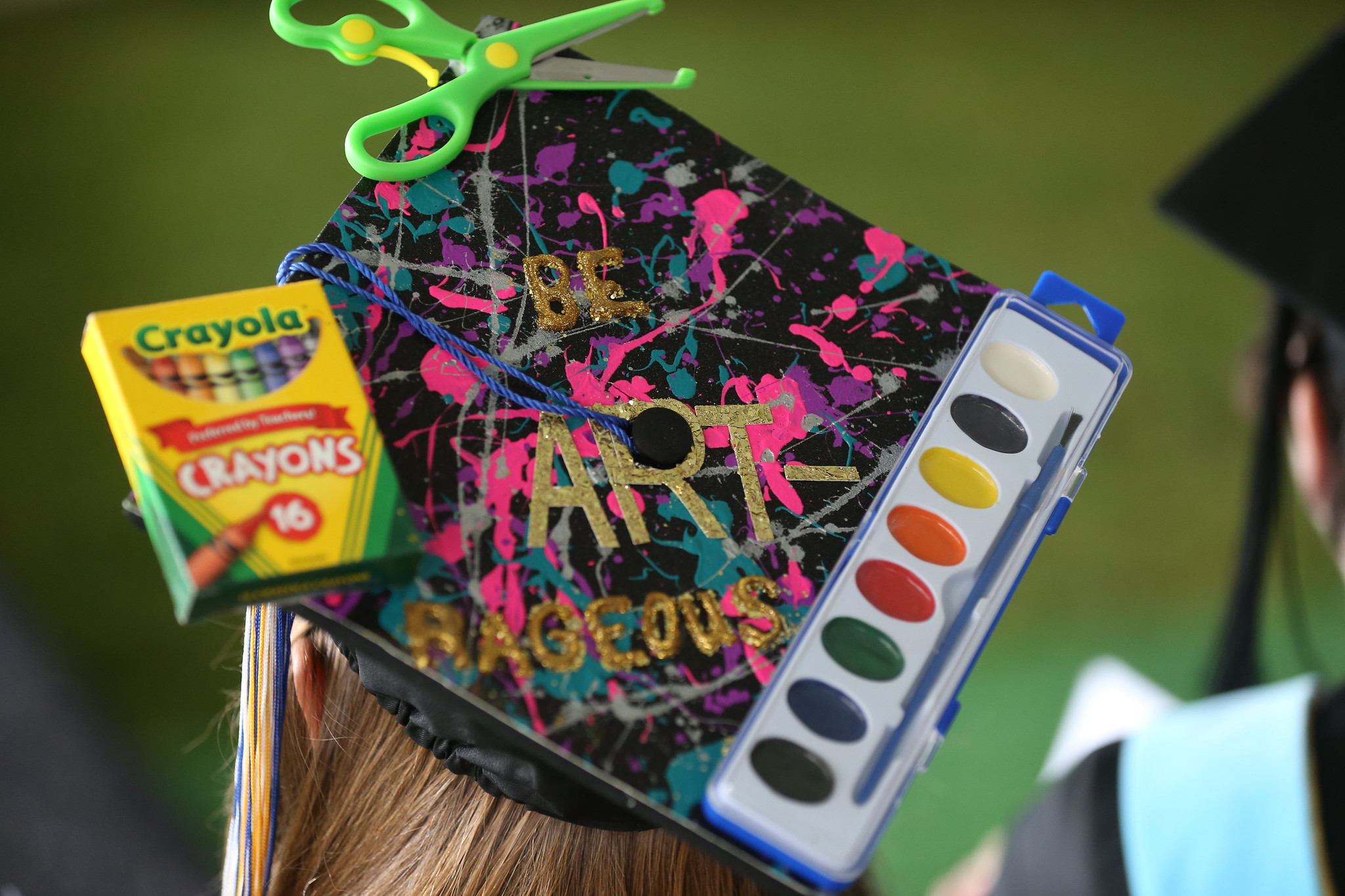 St. Mary's College grads, get ready to make your mark on the world!
The ceremony begins at 10:00 a.m. sharp on Townhouse Green.  All graduates will assemble at the Recreation Courts no later than 9:15 a.m. Please be sure to wear caps and gowns.
We hope the following information will be helpful in your plans to attend the Commencement ceremony on Saturday, May 16, 2020.  We appreciate your patience, understanding, and cooperation on this very special day.
The ceremony will be held, rain or shine, under a large tent on Townhouse Green. Tickets are not required.  Depending on the weather forecast, you may want to include rain gear or sunscreen and hats.
The Commencement site will open at 8:30 a.m. Personal items left on chairs do not constitute reserved seating.  The first three rows on both sides of general seating are reserved for wheelchairs, guests who are seeing- or hearing-impaired, and special guests of the College.
We ask that everyone mute their cell phones during the ceremony.
We look forward to sharing this special time with the Class of 2020 and their families and friends.  If you need further information about Commencement logistics, please call the Events & Conferences Office at (240) 895-4310.
Checklist
CAPS & GOWNS
All students, regardless of their major, wear the same graduation regalia (cap, gown, hood, & black tassel). Prospective graduates will be notified by email in mid-February regarding the ordering process for caps and gowns and these orders should be placed at
https://buildagrad.com/smcm
by April 6, 2020. Payment information is not required at the time these orders are placed and students pick up and pay for regalia May 11 -16 at the Campus Store. Those students who only need part of the outfit or do not need regalia, should still place an order and there is an option to indicate that only part of the outfit is needed or no outfit is needed. Those students who place orders after April 6, should order and pay for regalia by visiting
www.smcmbooks.com
. The cost for the complete outfit will be $49.95 if ordered by April 6, and $59.95 after that date. Please contact the Campus Store at 240-895-4420 if you have questions about your cap and gown order.
ACADEMIC REMINDERS
St. Mary's College has a strict requirement for participation in the graduation ceremony. In order to walk in the ceremony, you must be within four (4) credits of the graduation requirement, with a minimum cumulative GPA of 2.0, and an action plan for completion of the remaining credits must be filed in the Office of the Registrar. A notation will be placed in the Commencement program indicating that there are credits left to be fulfilled. If you are in any danger of not meeting this requirement, call the Office of the Registrar at 240-895-4336.
FINANCIAL REMINDERS
Check with the Business Office to be sure your financial obligations to the College are covered. Your diploma will not be mailed to you nor will a transcript be issued until your account is cleared. For information, call 240-895-4315. Students receiving financial aid should call that office, 240-895-3000, before Commencement.
LIVING ON-CAMPUS
Seniors living on campus must check out of residence halls and suites by 3:00 p.m. and out of apartments and townhouses by 5:00 p.m. on May 16, 2020.
ANNOUNCEMENTS
Personalized graduation announcements, starting at $14.50 for a set of 5, can be ordered at
www.balfour.com
or by calling 1-877-225-3687.
DOUBLE MAJOR
If you have a double major, you must choose the major with which you wish to walk. If you have a double major in both a BA and BS degrees and you have chosen to receive a BS, then you will be required to walk with the major associated with your BS degree. Go to the Office of the Registrar's table during Grad Fair on April 9 to register your preference and to check the spelling and pronunciation of your name.
SUMMER 2020 & FALL 2020 GRADS
If you are planning on walking during Commencement, please send an email to:
graduation@smcm.edu
and include your student ID, full name, and major.
Hospitality Service
LOCAL HOTELS (SMCM FAMILIES & FRIENDS)
Families are encouraged to make hotel arrangements as early as possible. The following hotels have set aside rooms to accommodate SMCM families.
Hampton Inn Lexington Park – $89/night (∼ 8 miles) 22211 Three Notch Rd., Lexington Park, MD 20653; 301-863-3200.
Fairfield Inn by Marriott – $89/night (∼ 8 miles) 22119 Three Notch Rd., Lexington Park, MD 20653; 301-863-0203. Click here to make a reservation.
Home2Suites by Hilton – $129/night (∼ 8 miles) 46058 Valley Dr., Lexington Park, MD 20653; 301-866-1416. Click here to make a reservation.
Country Inn & Suites – $116/night (∼ 11 miles) 44941 Worth Ln, California, MD 20619; 301-737-5227.
RESIDENCE HALLS (GRADUATING SENIORS RESIDING OFF-CAMPUS)
Graduating seniors living off-campus who would like to be on campus for Senior Week may make arrangements to stay in the residence halls by calling the Office of Residence Life at 240-895-4207 no later than May 1. These arrangements DO NOT include a meal plan; seniors not on the meal plan must pay for individual meals.
Senior Week Events
| Event | Time | Location |
| --- | --- | --- |
| Awards Convocation | Friday, April 17, 3:00-4:00 p.m. | MPOARC Arena |
| Lavender Graduation | Friday, April 26, 3:00 – 5:00 p.m. | Daugherty-Palmer Commons (DPC) |
| Beach Day | Wednesday, May 13, 12:00 – 4:00 p.m. | Waterfront |
| Senior Gala | Thursday, May 14, 6:00 – 11:00 p.m. | Campus Center |
| **Graduation Rehearsal** | Friday, May 15 at 11:00 a.m. | Recreation Courts (MPOARC Arena) |
| Senior Convocation | Friday, May 15, 4:00 p.m. | Townhouse Green |
| Family Activities | Friday, May 15 & Saturday, May 16 | See Details |
| **Photographs** | Saturday, May 16, 9:15 a.m. | Recreation Courts (MPOARC Arena) |
| Commencement | Saturday, May 16, 10:00 a.m. | Townhouse Green |
CONGRATULATIONS!