Antonio Ugues Jr Named Director of the Center for the Study of Democracy
Welcome to Dr. Antonio Ugues, Jr., the new Director of the Center for the Study of Democracy. Dr. Ugues, an associate professor in political science at St. Mary's College of Maryland, assumed his new duties on July 1, 2019. Todd Eberly, associate professor of political science and public policy, had been serving in an interim capacity since July 2018.
"As the Center continues its work to advance historical and contemporary knowledge and understanding of ideas and practices associated with democracy, liberty and justice, Antonio Ugues will be a great asset in guiding stimulating dialogue and helping to provide enriching experiences for our students and the greater community," said Provost and Dean of Faculty Michael Wick in making the announcement.
"As director, I hope to reinvigorate the mission and reach of the Center for the Study of Democracy by recommitting it to the various constituencies that it serves and addressing issues that are salient for these constituencies and our times," said Dr. Ugues in his acceptance statement. "While I am particularly interested in issues surrounding the dynamics of public support for democracy and the integrity of elections at home and abroad, I intend to draw on the wealth of knowledge, expertise and talent at St. Mary's College as well as that of our partners in the community in order to continue building on the Center's legacy of promoting democracy, liberty, and justice."
Dr. Ugues teaches courses in comparative politics, democracy and elections, and the politics of Latin America at St. Mary's College. He received his PhD in political science from the University of California at Riverside. His research interests include democracy, electoral systems, and electoral integrity in Latin America. His work has appeared in several academic venues including: Electoral Studies; Journal of Politics in Latin America; Latin American Politics and Society; Journal of Elections, Public Opinion, and Parties; Journal of Legislative Studies; and Democracy and Security. His current research agenda explores attitudes towards democracy and electoral integrity in contemporary Mexican and U.S. politics.
UPCOMING EVENTS
Watergate (Nov. 19)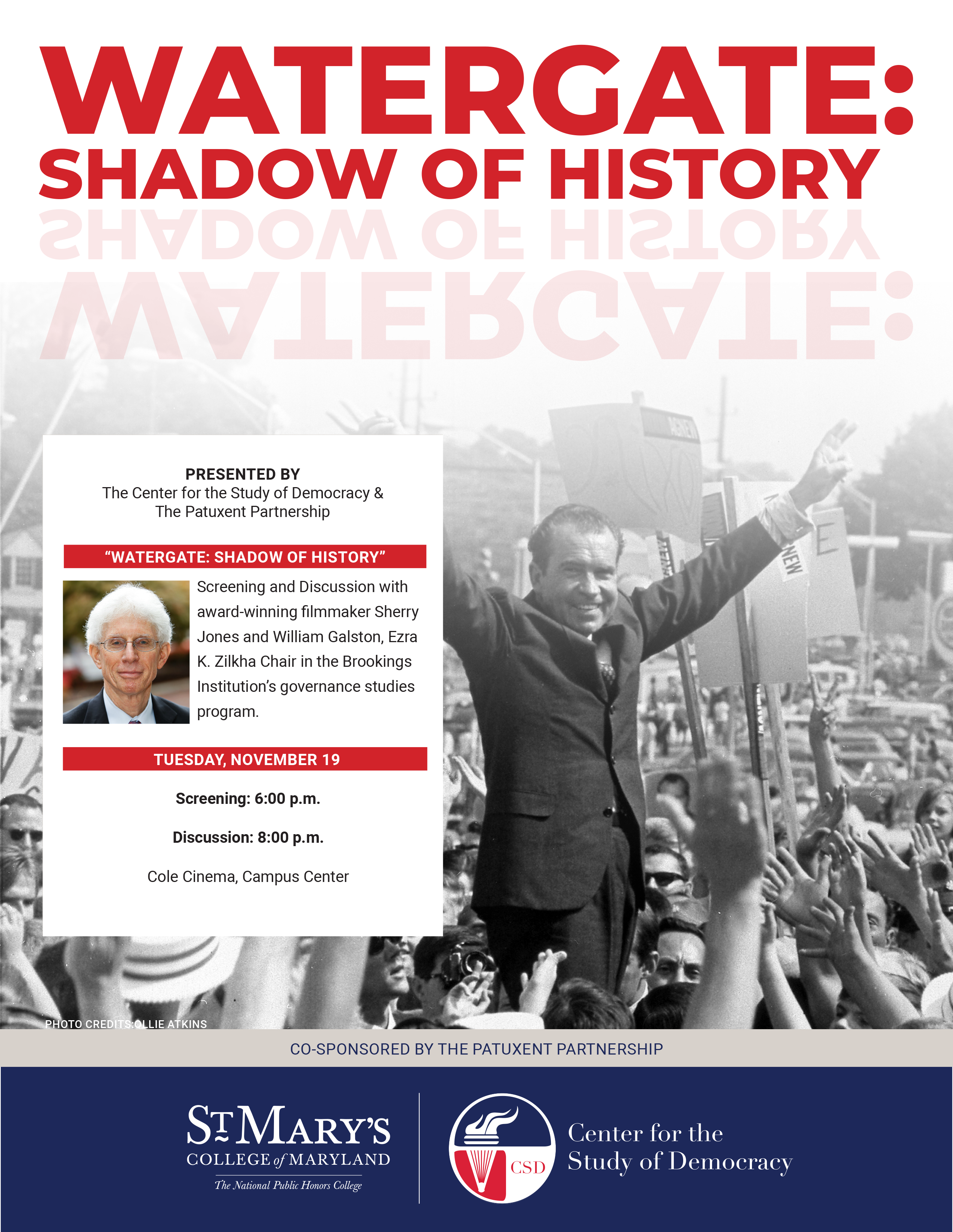 Legislative Preview (Nov. 20)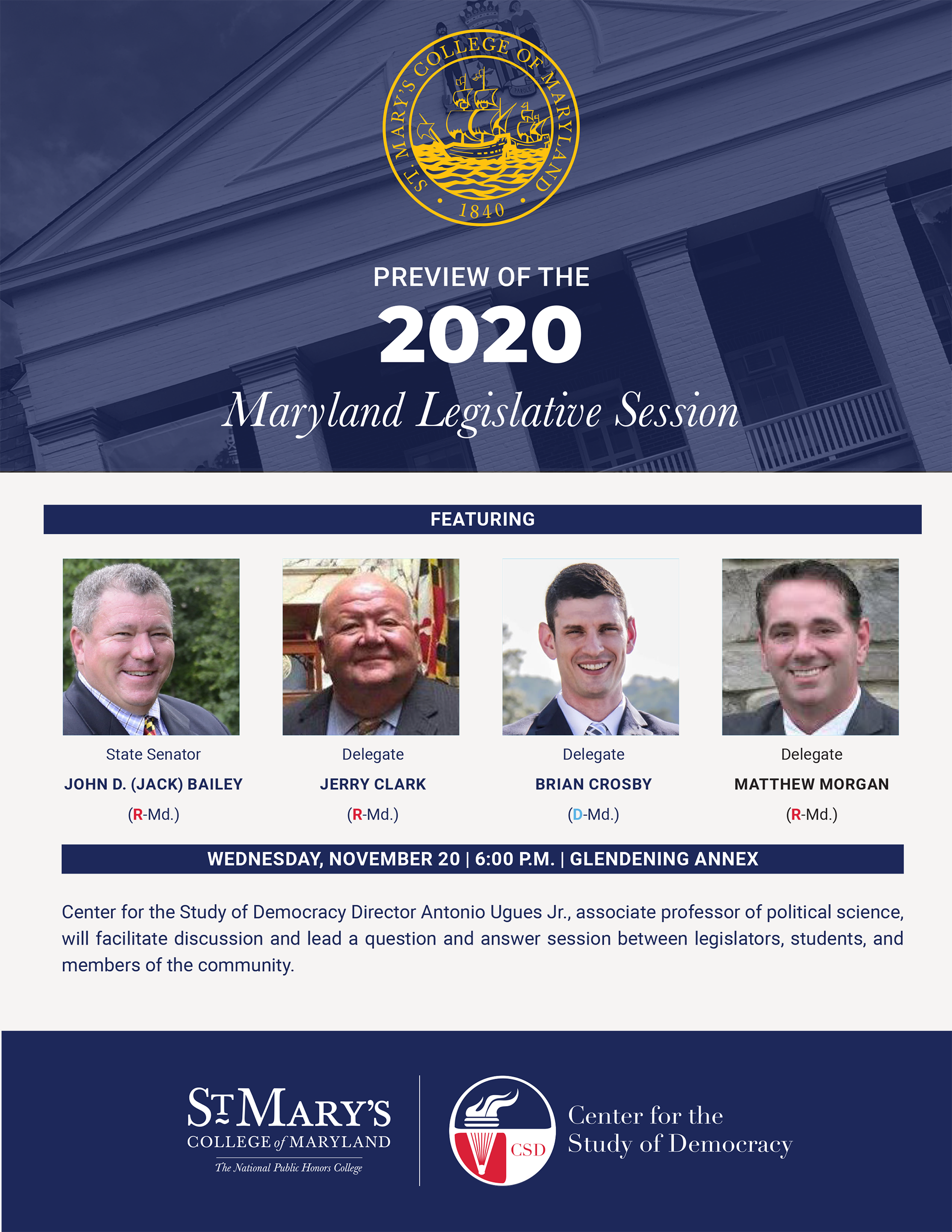 RECENT EVENTS
Jason Rezaian to Deliver the 2019 Benjamin C. Bradlee Distinguished Lecture in Journalism at St. Mary's College of Maryland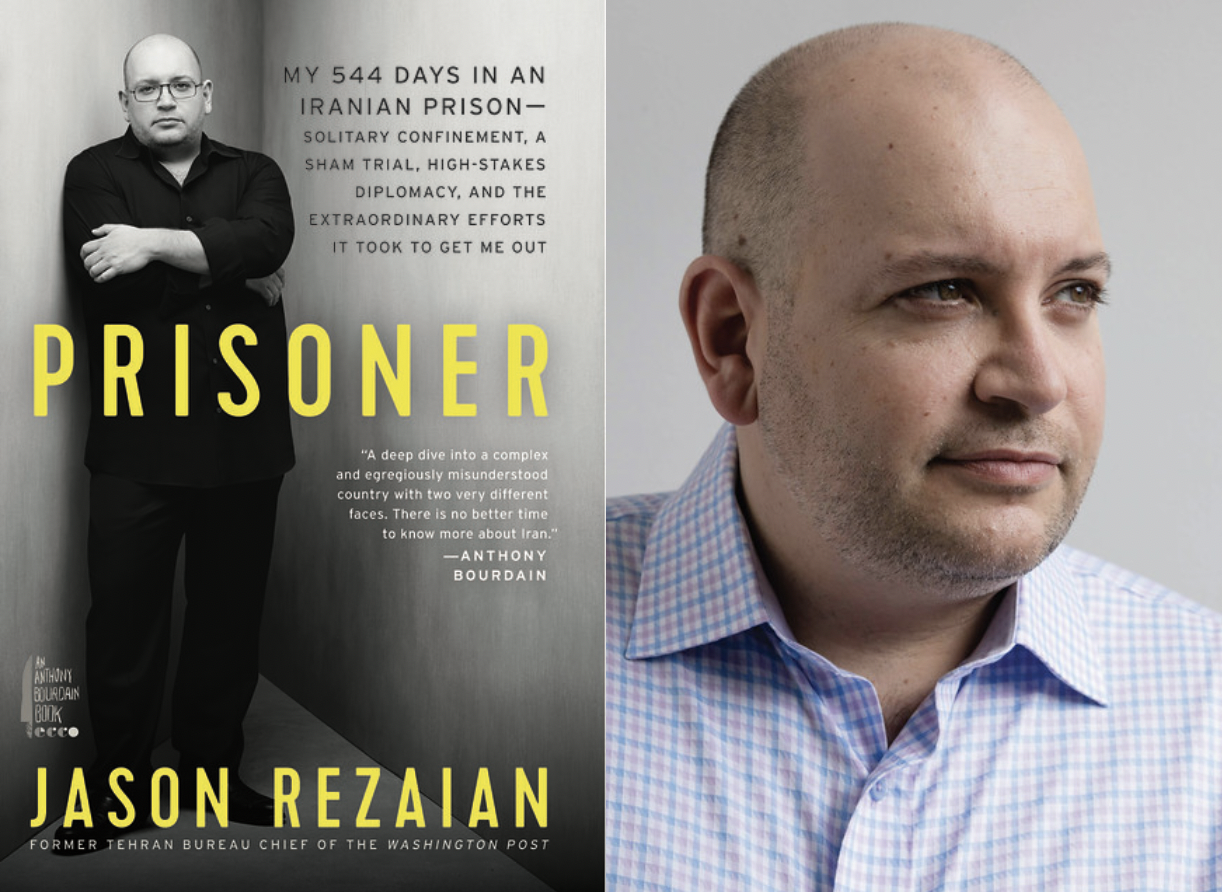 In July of 2014, Jason Rezaian and his wife were detained in their Iranian home and he went on to spend 544 days in Tehran's Evin prison, released on the same day that the historic nuclear deal between Iran and world powers was implemented. On Wednesday, October 23 at 7:00 pm., former U.S. correspondent Rezaian will deliver the Benjamin C. Bradlee Distinguished Lecture in Journalism on the topic of his book, "Prisoner" (Anthony Bourdain Books, 2019).
The lecture will be held in Auerbach Auditorium of St. Mary's Hall on the St. Mary's College of Maryland campus. Presented by the Center for the Study of Democracy, a joint project of St. Mary's College of Maryland and Historic St. Mary's City, this event is free of charge and open to the public but registration is recommended. An audience question and answer, and book sale and signing, will follow the lecture.
Rezaian is one of the few Western journalists to have been based in Tehran in recent years. From 2009 until his arrest in 2014, he covered stories that tried to explain Iran to a general American audience, first as a freelancer for a variety of outlets and later as The Washington Post's Tehran bureau chief.
He reported on two presidential elections, Iran's nuclear negotiations with global powers, the effects of one of the most punitive regimes in modern times, and environmental issues. In between those momentous topics, he told the stories of everyday Iranians which sought to make them more accessible to readers, reporting on Iran's small community of baseball players, the quest for the best high-end hamburger in Tehran, and a clinic for female drug addicts.
"Prisoner" is the dramatic memoir of Rezaian's ordeal of being held hostage in the high-security prison in Tehran for eighteen months. The New York Times Review of Books called it "more than just a memoir that reads like a thriller. It's also an intimate family history, an anguished love letter to an ancient and broken homeland, and a spirited defense of journalism and truth at a time when both are under attack almost everywhere."
Since his release, Rezaian has been a vocal advocate for press freedom around the world, as well as for Americans falsely imprisoned abroad. He is the winner of numerous awards including the Ellis Island Medal of Honor, the National Press Club's John Aubuchon Press Freedom Award, James W. Foley Legacy Foundation's Press Freedom Award, Arthur Ross Media Award for Reporting from the American Academy of Diplomacy, and The Radio Television Digital News Foundations First Amendment Award.
Established by former Washington Post executive editor and College trustee Benjamin Bradlee, this lecture series has brought many notable journalists to St. Mary's, including Bob Woodward, David Broder, Tom Brokaw, Robin Wright, Richard Cohen, Tony Kornheiser, David Ignatius, Gwen Ifill, Neil Irwin, Cokie Roberts, and Carl Bernstein.
Dr. Darrell M. West to Discuss Cyber Security and Election Interference on Constitution Day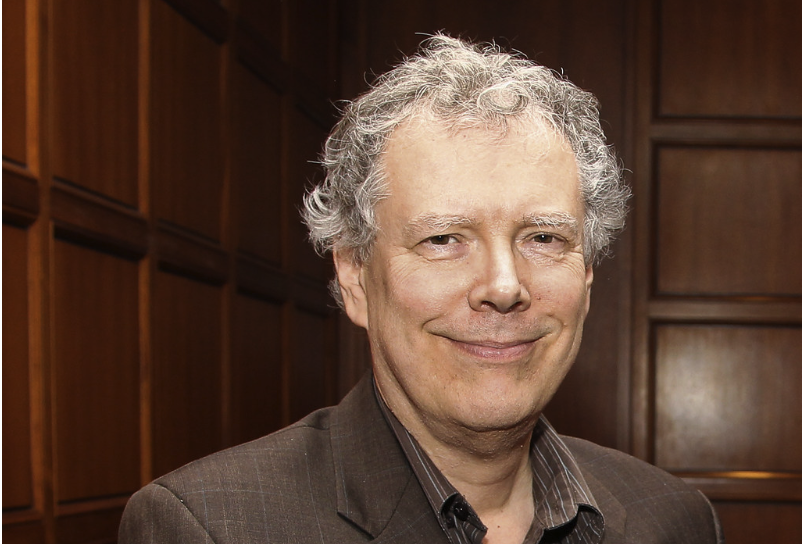 The Center for the Study of Democracy, a joint project of St. Mary's College of Maryland and Historic St. Mary's City, will host the 2019 Constitution Day Lecture featuring Dr. Darrell M. West on Tuesday, Sept. 17 at 7 pm in the College's Cole Cinema, Campus Center. The lecture will be preceded by a reception in Aldom Lounge, Campus Center. The event is free of charge and open to the public.
West, vice president and director of Governance Studies at the Brookings Institution, will speak on cyber security and election interference with a focus on American democracy. West is the founding director of the Center for Technology Innovation at Brookings and Editor-in-Chief of TechTank.

Patuxent Defense Forum
July 17-18, 2019
The Ronald Reagan Building and International Trade Center
Washington, D.C.
8th Symposium on the Impacts of of an Ice-Diminishing Arctic on Naval and Maritime Operations
A joint program of The Woodrow Wilson Center, the U.S. National Ice Center, the U.S. Arctic Research Commission, the Patuxent Partnership, and the Center for the Study of Democracy at St. Mary's College of Maryland.
The symposium will focus on naval and other maritime operations in an "ice-free Arctic" and brings together experts on arctic marine operations, the environment, science, policy, law, and governance. High-level opening remarks are anticipated from members of the Alaska Congressional Delegation, NOAA, Navy, USCG, USARC, industry, and other representatives from the US, Arctic nations, and international community.
View Event Online NOAA STAR NOAA The Patuxent Partnership
About the Center
The Center for the Study of Democracy (CSD) explores contemporary and historical issues associated with the ideas of democracy, liberty and justice in national and international contexts. It supports research that enhances our understanding of liberal democracy and its critics. CSD facilitates activities that strengthen democracy and the rule of law; enhance security and individual freedoms; invigorate the civil society; encourage free enterprise; and increase economic, environmental, educational and cultural equity.
The Center of Democracy PDF
Dr. Helen Daugherty discusses the Center
Center for the Study of Democracy panel on Maryland elections November 2, 2018