The Garden of Remembrance with its traditional pergola, classic stone fountain and beautiful view of the Bay captures the true essence of the Chesapeake. Built in 1934 in honor of the Tercentenary of St. Mary's City, the Garden has been a prime wedding location for alumni and community members for almost a century.   The garden was featured on NBC's "Today Show Throws a Hometown Wedding."
Garden of Remembrance Non-alumni Pricing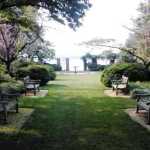 The Garden of Remembrance – $700
May Russell Lodge lawn – $150
Garden of Remembrance Alumni Pricing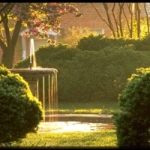 The Garden of Remembrance and May Russell Lodge Lawn – $500
The Garden of Remembrance, May Russell Lodge, and Lodge lawn – $1200
Reserving the Garden
The Garden of Remembrance is only available for weddings on weekends (3pm Friday-10am Monday) from the end of May through mid-August. To check availability of space and to reserve the Garden, please call the Events Office at 240-895-4310.
Insurance
The College requires clients purchase liability insurance; your insurance agent can help you with this and a copy of the policy must be provided to the Events & Conferences Office.
Equipment
The College does not rent any of its equipment to wedding clients. If you need chairs, tables, tents, or any other equipment, you will need to work with an outside vendor. We will be happy to make recommendations.
May Russell Lodge
The May Russell Lodge is for use by SMCM alumni only. Visit the Office of Alumni Relations for more information.
Receptions
The College does not rent any of the campus buildings for receptions. A tent may be put up on the lawn of the May Russell Lodge for a reception. Food and liquor must be supplied by a licensed caterer and a copy of the caterer's license will be required. If you are renting the Garden of Remembrance for your ceremony, the Lodge lawn is included in the price.
The Grounds
The grass in the Garden will be trimmed before your wedding. You may add potted flowers and plants to the Garden and you will be responsible for removing them. Under no circumstances will the client be allowed to trim or remove any of the original plantings.
Parking
Signs will be provided and put up by the Events & Conferences Office directing your guests to designated parking lots.