Jared Marmen '00 and Courtney Young Marmen '02
are excited to announce their new startup,
Chord 
Chord is a smart collar that guides you and your pet through positive rewards-based training.  Chord replaces fences, leashes, gates, activity trackers, lost pet locators, assists with health monitoring, and more.  It's like having a friendly trainer ride along with your pet 24/7, keeping your pet safe and well behaved.  And all in one device!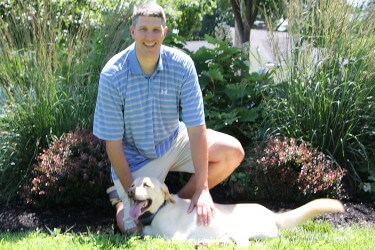 Jared Marmen '00 (Physics) first began drawing up plans for Chord as a graduate engineering student at Johns Hopkins in 2006 and never completely put it down.  As an engineer, project manager, and entrepreneur, he has a proven ability to develop and bring to market innovative products and approaches.  Jared led the development of innovative technology products, growing an $80k small business grant investment in 2007 into a technology that has generated over $24M in revenue to date.  He has personally worked with every piece of technology used in Chord.  At St. Mary's, Jared fell in love with his roommate's yellow lab Homer and later adopted Homer's nephew Bart, who serves as the namesake for their company, Barttron.  Jared is pictured here with his new yellow lab Nelson, a proud Chord test dog.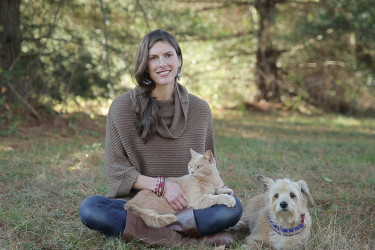 Courtney Young Marmen '02 (Psychology, Spanish) has over ten years of experience working in human resources and teaching, and is an American Montessori Society certified teacher.  In addition to her role as customer service and customer experience lead, Courtney is dedicated to product quality and communications.  She is passionate about helping people solve the everyday annoyances and inconveniences that have been accepted as part of being a pet owner.