Matt Hollis '03
Artist House artist in residence (1/19 – 2/22)

January 26 – February 19, Mondays & Wednesdays, 4:30-6pm: Eternal Spring gallery hours
Wednesday, January 27, 4:45-5:45pm: Opening Reception & Artist Talk
Montgomery Hall, Art Annex 100, Main Gallery Space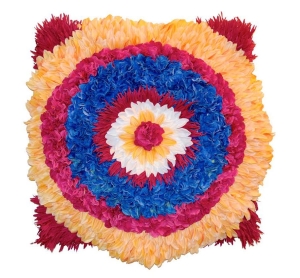 Matt Hollis '03 (Art) both harnesses and celebrates the allure of nature in his elaborate faux-floral assemblages that express a devout obsession with all things organic.  His work plays with notions of the power that the natural world holds over the human psyche and uses flowers to ceremoniously celebrate themselves.  He has exhibited works ranging from wall hangings to large-scale installations in numerous galleries throughout the DC area.  Hollis has been recently awarded a DC Commission of Arts & Humanities Artist Fellowship Grant for 2016.  In 2015 he was chosen as one of three artists to travel to France for an artistic research trip sponsored by Transformer Gallery.
Sofia Sokolove '11
with her father, Michael Sokolove
Thursday, January 28, 8:15-10pm: VOICES Reading
Daugherty-Palmer Commons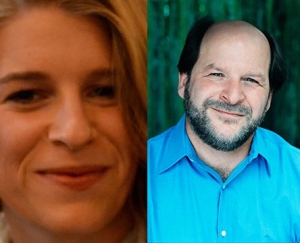 Sofia Sokolove '11 (English, Psychology, swimming) has been living and writing in Austin, TX for the past four years, bouncing around the arts, literature, and food scenes.  She is the current Assistant Editor of TRIBEZA magazine, an Austin-based arts and culture magazine.  Her work has appeared in Texas Highways, Eater Austin, ArtDesk, CultureMap Austin and more. She has worked for the national literary magazine American Short Fiction, and currently serves as a member of the Lit Crawl Austin committee.  She likes to think she's bringing a little bit of the St. Mary's way to the Lonestar state.
Michael Sokolove is a contributing writer for the New York Times Magazine, where his niche has been the intersections of science, culture and sports.  He has also written for the Times Magazine about politics and a broad range of other topics.  He previously worked as a reporter for Philadelphia Daily News and Philadelphia Inquirer.  He is the author of five books, including  DRAMA HIGH: The Incredible True Story of a Brilliant Teacher, a Struggling Town, and the Magic of Theater (Riverhead, 2013), which is set in his hometown of Levittown, Pa., and tells the story of an elite theater program's unlikely success. Drama High was chosen by USA Today as one of its top ten books of 2013, and made end-of-year lists in several other publications, including The Observer (London) and the website Salon.  It is being developed by Sony Pictures Television.
Jolene Schafer '01
Artist House artist in residence (4/4 – 5/4)
Tuesday, April 5, 12-1pm: Brown Bag Lunchtime Talk
Glendening Annex
Saturday, April 9, 10am-5pm: Art of the Mask 1–day leather mask-making workshop
Limited to 20 participants. For free registration information contact Sue Johnson.

Jolene Schafer '01 (Art) started Platy-Morph, a handmade leather mask art company, in 2012 after previous experiences as a graphic designer and scientific illustrator and model-maker. Shortly after graduating, she was selected for a year-long internship with the Das Puppenspiel Puppet Theater during which time she was trained in westernized bunraku puppetry and performed in dozens of shows including "The Snow Queen," "Peter and The Wolf," "Through the Looking Glass," as well as Das Puppenspiel's award-winning original production, "Pictures at an Exhibition" in numerous venues across the east coast. She has studied at the New York Studio School and the University of Alaska, Fairbanks where she studied costume design, mask construction, and comic art.