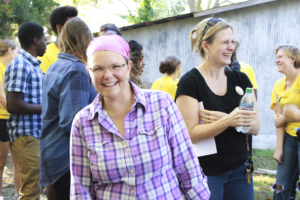 Kate Chandler was a cross-disciplinary scholar and teacher who combined her love of literature with a passion for environmental issues. Central to the creation of the Campus Community Farm and an early advocate for and leader in the Environmental Studies Program, Kate inspired and mentored countless students enthralled by narrative, the novel, and nature. She embodied the College's core values – passion for her scholarship and students, respect for the natural environment, and a spirit of deep caring. In the words of Jennifer Cognard-Black, professor of English, "Kate Chandler was generosity personified, in the classroom and beyond. As a teacher, she gave of herself: Meeting repeatedly with students during extended office hours, agreeing to help with senior projects or papers that weren't for her own classes, helping students with their own initiatives, teaching them about nature writers out in the glorious sun and on the rippling waters of the St. Mary's River, and often baking her famous pumpkin-chocolate chip bread to help get students through midterm madness."
Kate, who joined the English faculty in 1996, died April 1, 2017, at age 67, after a tw0-year battle with cancer. For all those who may have had a class, worked on the Campus Community Farm, or shared moments of wonder with Kate – there is a special opportunity to honor Kate's legacy at St. Mary's College. "Kate's contribution to the Environmental Studies Program over the years has been immeasurable. The new Kate Chandler Fund for the Study of Literature, Writing, and the Environment honors her wisdom, generous spirit, and passion for environmental humanities by establishing scholarships to support students pursuing research or writing concerned with literature and the landscape, topics close to Kate's heart," notes Barry Muchnick, assistant professor of environmental studies.
Deeply inspired by Kate and their long friendship, an anonymous donor decided to provide a generous challenge match for those making a gift to the Kate Chandler Fund. Every gift made today through June 30, 2017 will be matched dollar for dollar up to $10,000.
Gifts in honor of Kate can be made at www.smcm.edu/give.