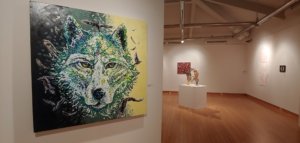 While the COVID-19 pandemic delayed the physical exhibition in the spring semester, the 2020 All-Student Show is open August 17 – 29 by appointment. Please schedule a time to see the work of SMCM student artists through boydengallery@smcm.edu and take a look at the 51st All-Student Exhibition 2020 Catalog.
We're thrilled to wrap up the 2020 All-Student Show with online documentation of the installation and artist interviews!
For the installed show, see Boyden's Flickr album.
For a video walkthrough, see Boyden's Youtube video.
For interviews with student artists, see the Gallery's blog.