Be Kind Month ~ Film Screening and Discussion
New for 2021! Inclusive Diversity, Equity, Access, and Accountability / IDE(A)2 and the Hilda C. Landers Library, Archives & Media Center (LAMC)  have joined forces to present a monthly film series designed to celebrate our diversity on campus.   On the 3rd Thursday of each month, we will celebrate the Awareness theme of that month with a screening of a relative film or documentary followed by an interactive discussion.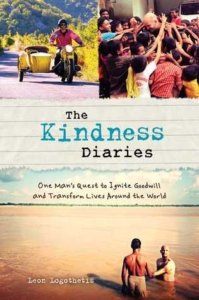 As part of the ongoing Awareness Month Film project, IDE(A)2 and LAMC are pleased to present episode 1 of the series The Kindness Diaries as the July film offering.
We invite the entire community to join us for a virtual lunchtime screening of episode 1: Gift of Love, followed by an interactive group discussion, on Thursday, July 15 at 12:00 pm.
Event Details:
Thursday, July 15, 12:00 pm – 1:00 pm
Registration Required
https://smcm.zoom.us/meeting/register/tJYsdu2oqTosGtAe_uJU9iMxPaW40x7hdEqt

About the series:
Leon is a man with a mission. Counting solely on the kindness of strangers for food, shelter, and fuel, he travels around the world on a vintage motorcycle (Kindness One) looking for the good in humanity. This is an uplifting social experiment that examines the nature of generosity and gives glimpses into the hearts of some truly selfless people. It gives one real hope in a world where too often greed is revered as a virtue and caring as a liability.
Episode 1:  With a tank full of gas donated by a would-be traveler, Leon and Kindness One leave LA and try their luck in Sin City before finding a fellow Brit in an out-of-the-way Western town in Colorado. Leon spends a day on a ranch and then spends the night sleeping on the streets of Pittsburgh with a homeless man and his friends.
On-demand Viewing: 
The entire series is available for on-demand viewing through Amazon Prime (account required).
If you have questions or need further assistance, please contact Sarah Cannavo (slcannavo@smcm.edu) or Kat Ryner (khryner@smcm.edu).