Asian American & Pacific Islander Heritage Month Film Screening
New for 2021! Inclusive Diversity, Equity, Access, and Accountability / IDE(A)2 and the Hilda C. Landers Library, Archives & Media Center (LAMC)  have joined forces to present a monthly film series designed to celebrate our diversity on campus.   On the 3rd Thursday of each month, we will celebrate the Awareness theme of that month with a screening of a relative film or documentary followed by an interactive discussion.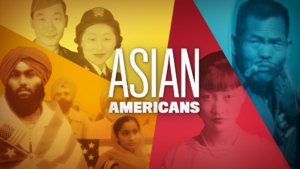 In recognition of Asian American & Pacific Islander Heritage Month, and as part of the ongoing Awareness Month Film project, IDE(A)2 and LAMC, along with our event sponsors, Asian Studies Program and Asian Pacific American Club, are pleased to present the PBS series Asian Americans as the May film offering.
We invite the entire community to join us for a virtual screening of episode five, Breaking Through, and an interactive discussion, facilitated by Professor Charles Musgrove, on Thursday, May 20 at 5:00 pm.
Event Details:
Thursday, May 20, 5:00 pm – 7:00 pm
5:00 pm – 6:00 pm:  Group Viewing
6:00 pm – 7:00 pm:  Interactive Discussion
Zoom Link: https://smcm.zoom.us/j/95397305278
Meeting ID: 953 9730 5278
Passcode: 343188
About the Film:

Asian Americans is a five-episode (one-hour each) film series that chronicles the contributions and challenges of Asian Americans, the fastest-growing ethnic group in America. Personal histories and new academic research will cast a fresh lens on U.S. history and the role Asian Americans have played in it.
Episode 1: Breaking Ground
In an era of U.S. expansion, new immigrants arrive from China, India, Japan, the Philippines, and beyond. Eventually barred by anti-Asian laws, and become America's first "undocumented immigrants." Yet they build railroads, take their fight for equality to the U.S. Supreme Court, and dazzle on the silver screen.
Episode 2: A Question of Loyalty
An American-born generation straddles their country of birth and their familial homelands in Asia. Family loyalties are tested during World War II, when Japanese Americans are imprisoned in detention camps, and brothers find themselves on opposite sides of the battle lines. For Koreans and other Asian Americans, joining the U.S. war effort also means the fight for independence in Asia.
Episode 3: Good Americans
During the Cold War years, Asian Americans are simultaneously heralded as a Model Minority, and suspected as the perpetual foreigner. It is also a time of bold ambition, as Asian Americans aspire for the first time to national political office, and an emerging culture-quake rises to the surface.
Episode 4: Generation Rising
During a time of war and social tumult, a young generation fights for equality in the fields, on campuses, and in the culture, and claim a new identity: Asian Americans. The aftermath of the Vietnam War brings new immigrants and refugees who expand the definition of Asian America.
Episode 5: Breaking Through
At the turn of the millennium, Asian Americans have become the fastest-growing population in the U.S. It is a time of tremendous change, as the country tackles urgent debates over immigration, race, and economic disparity. Asian Americans, newly empowered by growing numbers and rising influence, must navigate their role in the American future.
On-demand Viewing:  The entire documentary (5 episodes) is available for free on-demand viewing through the PBS website.
SMCM students, staff, and faculty are also able to view the series via the Films On Demand Viewing platform.
We encourage you to watch the entire series at your leisure before the group discussion on May 20.  For those who do not wish to participate in the group screening but would like to join us for the post-screening discussion, please feel free to join the zoom meeting at 6:00 pm.
Special thanks to our event sponsors for this month's film screening:  Asian Studies Program and the Asian Pacific American Club (APAC).
If you have questions or need further assistance, please contact Sarah Cannavo (slcannavo@smcm.edu) or Kat Ryner (khryner@smcm.edu).