The Media Center is located on the 3rd floor of the Library and is home to two staff offices (Rooms 318 and 311); and the following spaces:
Presentation Classroom, Room 321
Seats 75, HD projector and signal, sound system, PC laptop, Apple laptop connection, Blu-ray/DVD, VHS, TV, whiteboard wall
Reserve via EMS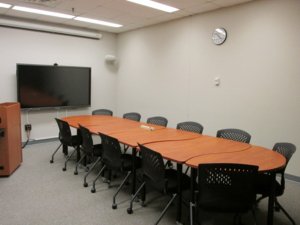 Teaching Classroom, Room 307
Seats 15, HD projector and signal, sound system, DVD, VHS, smartboard
Reserve via EMS
Digital Media Lab, Room 317
Open to students M-F 9:00AM-5:30PM
Recording & Photography Studio, Room 313
Reserve the Recording Studio.
Media Equipment Room, Room 311
Holds a wide variety of media equipment used for events or available for checkout. Contact mediacenter@smcm.edu for equipment questions and needs.
Beanbag Lounge, Room 312
Study Lounge for students with backdrops for photography and other projects.