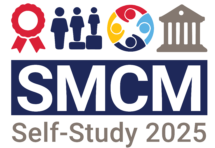 Over the course of the spring 2023 semester, the Steering Committee prepared the design/structure of our self-study analysis, which will be the key work of the upcoming academic year (2023-24). Generally-speaking, SMCM has opted to use an approach to the self-study process that is organized according to the individual MSCHE Standards. Within that approach, SMCM will be framing its analysis of our work through consideration of the institutional priorities that were developed this semester.
The Self-Study Design
The draft of the Self-Study Design (SSD) document was completed and shared with MSCHE on April 25, 2023. Following the campus visit from our MSCHE VP Liaison, Dr. Terence Peavy, on May 9, 2023, a final version with minor editorial changes was submitted on May 10, and this version was accepted by MSCHE on May 15. Click here or below left to read a copy of the final SSD (SMCM log in required). Click here or below right to read a short two-page "snapshot" giving the highlights of the SSD.
Institutional Priorities
Four institutional priorities were developed by the steering committee, and refined through campus conversations and outreach involving feedback from faculty, staff, students, and administrators.

The institutional priorities are meant to be a focus of the institution that will be analyzed as part of the self-study; they invoke the foundational elements of our identity and mission. They are intended to be forward-looking, to focus on institutional improvement, and to be aligned with the SMCM mission, the strategic plan, and Middle States standards. Thus, priorities are as mission-central goals that we are continually working toward; we will report on our progress on them in the self-study. This distinguishes them from the strategic plan pillars, which are narrower and contain objectives that represent new directions for the institution in the next several years.
Aligning Strategic Planning and Self-Study
During the 2022-2023 year, SMCM faculty, staff, administrators, and students engaged in the development of a new Strategic Plan. The Board of Trustees approved the 2023-2026 plan, The Rising Tide, on May 12, 2023. The four pillars of the plan will be implemented beginning in Fall 2023. We will continue to update this section to communicate how these two core processes will serve and guide the SMCM community in the years to come.