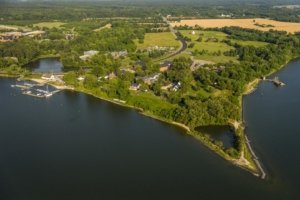 St. Mary's College of Maryland announces a SEP Phase XV Scientific Equipment grant from the Sherman Fairchild Foundation to support, improve and broaden the access and impact of undergraduate science education at the College.
This grant will supply the equipment to establish two new laboratory spaces on campus, a fabrication laboratory and an imaging center, as well as the acquisition of observational astronomy and chemical imaging equipment that will support and expand current curricular and research offerings to both science and non-science majors.
Engaging students through experiential learning is a major component of the College's new Learning through Experiential and Applied Discovery (LEAD) initiative. Through LEAD, faculty work across disciplines to blend together a thoughtful and purposeful academic experience for students with hands-on learning opportunities intertwined with credit-bearing professional skill development courses.
"We are grateful to the Sherman Fairchild Foundation for investing in St. Mary's College of Maryland as we continue to work toward integrating practical and professional skills for students through our LEAD initiative promoting success beyond college," said President Tuajuanda C. Jordan.
Scientific equipment like that provided through the grant from the Sherman Fairchild Foundation also enables the College to recruit and retain more talented high school students to the College by increasing and diversifying undergraduate research and hands-on learning opportunities for both science and non-science majors.
The St. Mary's College of Maryland Foundation is a private, nonprofit organization that supports the College through sound fiscal management of a growing endowment portfolio. It is governed by a board of directors that gives its expertise and time in service to the College without compensation.
St. Mary's College of Maryland, the National Public Honors College, is accredited by the Middle States Commission on Higher Education through 2024-2025. St. Mary's College is ranked one of the best public liberal arts schools in the nation by U.S. News & World Report. Approximately 1,600 students attend the college, nestled on the St. Mary's River in Southern Maryland.