To observe the two-year anniversary of the dedication of the Commemorative to Enslaved Peoples of Southern Maryland, the Sacred Journey continues. Walking the Procession of Dignity is an opportunity to walk the roads that the enslaved walked, to contemplate the lives that they lived, and to give value to the idea of the unbroken chain that links the present and the past. The procession also serves to proclaim the unity of our community, our commitment to treating one another with dignity, and our shared responsibility to preserving the history of the enslaved persons who had inhabited our ground. It is a public sacrament that restores and reaffirms the dignity and humanity of the enslaved.
Friday, November 4 | 4:30 – 6:00 P.M.
Join us for The Sacred Journey: The Beloved Community. This year's event takes place in two locations, with a walk in between.
The Procession of Dignity is a walk of approximately one mile on paved and bricked walkways, with varying elevations. For those who cannot walk the route, a limited number of people movers will be available.
In the event of inclement weather, the ceremonies will take place inside the Nancy R. & Norton T. Dodge Performing Arts Center. Look here for an inclement weather announcement in the days leading up to the ceremony.
Honoring the Commemorative
4:30 p.m. – Honoring the Commemorative, Commemorative to the Enslaved Peoples of Southern Maryland
Remarks by President Tuajuanda C. Jordan and William "BJ" R. Hall III, president of the St. Mary's County chapter of the NAACP
Choral Program
Spoken Word Performance
The Procession of Dignity
St. Mary's College President Tuajuanda C. Jordan will lead the Procession of Dignity, traversing the campus from the Commemorative to Enslaved Peoples of Southern Maryland to the College Waterfront along the St. Mary's River.
4:50 p.m. – Procession of Dignity from the Commemorative to the Waterfront

Waterfront Ceremony
At the waterfront, there will be a choral program, lighting of candles, a reading of names of the enslaved by St. Mary's College students, and a student-led libation ceremony.
5:10 p.m. – Waterfront Ceremony
Choral Program
Reading of the Names of The Enslaved
Candle Lighting
Libation Ceremony
Parking
Participants are requested to enter the campus from Mattapany Road and proceed to marked parking areas (lots T & W are closest to the Commemorative, with parking also available in lots V & Z). For those attending the Waterfront Ceremony only, there is limited parking at the James P. Muldoon River Center and Kent Hall (lots J & E, respectively).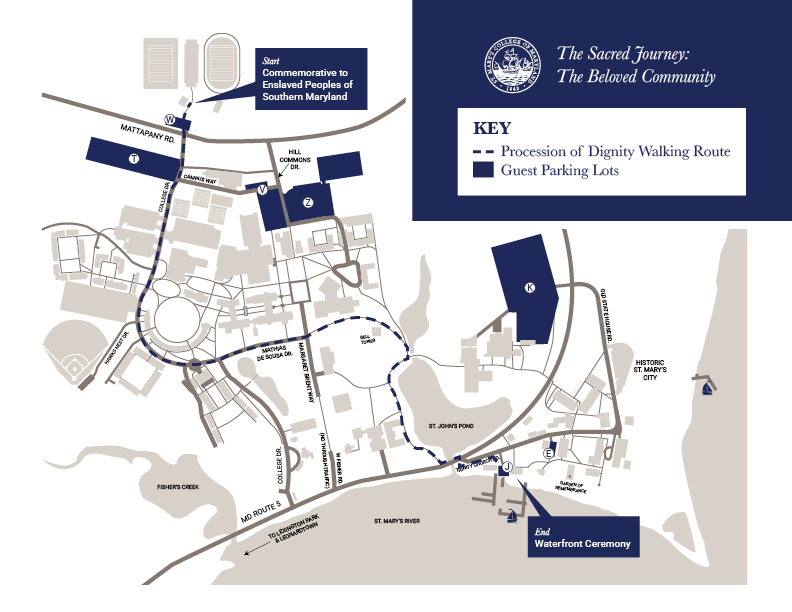 Walking Route & Parking Map
Any views, findings, conclusions, or recommendations expressed in The Panel Of Remembrance And Reverence do not necessarily represent those of the National Endowment for the Humanities.