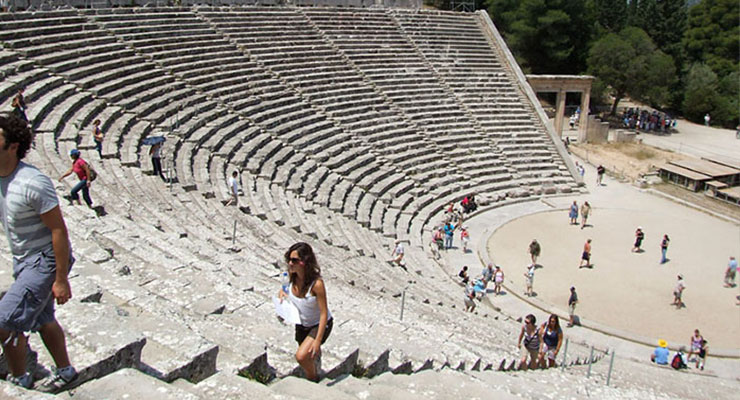 "I will miss the freshness of the food and how all the restaurants we visited seemed to really care about the product they were serving. I will also miss the friendliness of the people which seemed very genuine. One obvious thing I will miss is the beautiful beaches especially the black pebble one. Lastly, I will miss just learning multiple new things a day."  Patrick R., 2015
Itinerary for 2024 Greece Study Tour
May 28-June 16, 2024
The itinerary for 2024 commences with 7 nights in a family-owned inn in the small and welcoming village of Ancient Corinth, where we can adapt to the rhythms of Greek village life, see the many sites in and around this centrally located village, and even practice our Greek with long-time friends of years' worth of St. Mary's students.
We spend nights (after our initial night on the flight to Greece) in:
Ancient Corinth: Marinos Rooms (7 nights)
Nauplio:  Hotel Marianna (3 nights)  [In PBS's travel show, Rick Steves stayed in the hotel we'll be at.]
Olympia: Hotel Europa (1 night)
island of Kephalonia: Hotel Ionian Plaza (3 nights)
Delphi: Hotel Nidimos (1 night)
Athens: Acropolis Hill Hotel (3 nights)
This totals to 20 days/19 nights (including the first night on the flight over and the day on the flight back).