Katharina von Kellenbach, professor of religious studies, has successfully participated in a grant proposal to fund a network of scholars over the next three years. Nine theologians from Germany,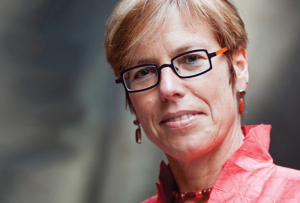 Hungary, Switzerland, and the United States will meet in six international conferences to develop a theological framework to understand the guilt of the church. At the end of three years, the network plans to present a collaborative publication.
This news follows a talk von Kellenbach was invited to give at the German Film Premiere of "Regina: The Story of the World's First Woman Rabbi Regina Jonas" in Berlin in November, 2015. She also presented a paper on the history of her discovery of the archived papers of Rabbi Regina Jonas at the conference "The Role of Women's Leadership in Faith Communities. Marking 80 Years of Women in the Rabbinate" in Potsdam in November.
von Kellenbach is  former chair of the Department of Philosophy at St. Mary's College. She completed her PhD in religion at Temple University. Her areas of expertise include Holocaust studies, Jewish-Christian relations, feminist theology, and inter-religious dialogue. She is the author of "Anti Judaism in Feminist Religious Writings" (Oxford University Press, 1994) and of multiple biographical articles about the life and work of Rabbi Regina Jonas. Her most recent book is The Mark of Cain: Guilt and Denial in the Lives of Nazi Perpetrators (Oxford University Press, 2013). von Kellenbach also recently published the article "In Our Time: Civil Rights, Women's Liberation, and Jewish-Christian Dialogue Fifty Years After Nostra Aetate" in the Studies in Christian-Jewish Relations, the electronic journal of the Council of Centers on Jewish-Christian Relations.