Allison Bryan '00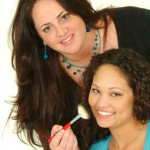 Major: Studio Art
Current Position: A freelance photographer in Los Angeles, doing headshots, fashion, promotional and interior shots. is working as a makeup artist in the industry and loving it.
Her work can be viewed at AllibMakeup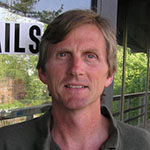 Scott Steele '81
Major: Political Science
Achievement: Won a silver medal in wind surfing the 1984 Olympics
With help from Mike Ironmonger, St. Mary's Waterfront Director, Scott and Monty Spindler '79 started a windsurfing craze at the St. Mary's. In 1980 the College sponsored the first intercollegiate windsurfing regatta held in the U.S. Seven colleges participated and Scott won the free-style and distance championships in the lightweight division. In 1981 Scott was named to the All-American sailing team and the All-MAISA team, both for a second time. In 1983 Scott was named windsurfer world champion. In 1984 he ranked as the top male boardsurfer in the U.S. He was also the only U.S. athlete to participate in the windsurfing competition at the 1984 Summer Olympics, where he captured the silver medal, despite being what the Baltimore Evening Sun called "the smallest and most lightly regarded member of the U.S. sailing team." Scott was named head coach of Georgetown University's co-ed varsity sailing team in 1995. In 1998 he was one of five Anne Arundel County residents selected for the County's Sports Hall of Fame. In 2009 he was named Severn School's sailing coach.
Most Memorable Sports Experience at St. Mary's:
"Winning the "A" division at the Denmark Trophy held at the US Coast Guard Academy by over 40 points and earning the school's first major intersectional victory beating out the top sailing programs in the nation."
Most Missed:
"I miss the competition of college sailing as it has not been duplicated after college. I enjoy going back to the annual 'Possum Bowl' alumni regatta every year to bring back the great memories."
Other Thoughts/Memories:
"My St. Mary's experience laid the foundation for me to reach the Olympic Games, be­come a silver medalist and recipient of great awards that has landed me in several Hall of Fames including the Anne Arundel County Hall of Fame and the Rhode Island Heritage Hall of Fame for my success in sailing and windsurfing."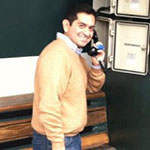 Isaac Salazar
After graduating from St. Mary's College of Maryland with a degree in Political Science, Isaac got his first "real world" job as a field organizer for Chris Van Hollen's first congressional campaign in 2002. Since then, Isaac has worked on several political campaigns and has worked in the U.S. House of Representatives and U.S. Senate for U.S Senator Ben Cardin and U.S. Senator Paul Sarbanes.
Isaac has also worked for Enterprise Community Partners, a national non-profit affordable housing organization, where he developed the organization's social media presence and its first-ever social media strategy. In the 2010 election cycle Salazar teamed up with the Maryland Democratic Party as its first New Media Director, where he worked to reelect Maryland Democratic candidates.
Isaac Salazar is the founder of Local Politechs Strategies, a digital marketing firm that offers services to a variety of clients at the national, state, and local level. In addition to this, Isaac is involved with a number of associations and organization including Social Media Club-D.C., NetSquared D.C., the Hispanic Democratic Club of Montgomery County, Young Democrats of Maryland, Montgomery County Young Democrats, and the St. Mary's College of Maryland Alumni Association (Washington D.C. and Baltimore Chapters).
Learn more about Political Science Alumni