The International Languages and Cultures (ILC) department currently offers a major and minor in Spanish. In addition to minors in Chinese and French, a there is also an option to create a student-designed major in those languages. Students majoring in ILC are required to produce an independently designed and closely mentored 8-credit St. Mary's Project in their senior year.
As human beings we are increasingly confronted with the need to live in a globalized context. One of the major challenges facing our society is to understand and learn how to work collaboratively with other societies in search of common interests. We are increasingly in need of professionals who have both linguistic and cultural literacy that extends beyond the English-speaking world. The ILC curriculum is designed to provide our students with a unique and adaptable set of skills across languages and cultures: critical thinking, an ability to negotiate ambiguity and difference, strong communication skills, facility with metaphor, and global awareness.
Spanish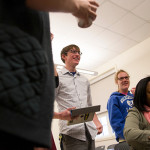 The Spanish program offers a wide range of classes that explore language alongside the intertwined legacies and varied cultural expressions of Spain, the twenty Latin American countries in which Spanish is an official language, and the US, home to one of the largest Spanish-speaking populations in the world.
Our faculty have particular expertise in:
Language and Literature
Cultural Studies
Indigenous Studies
New Media
Translation Studies
Community-Based Learning
You may also incorporate a course from multidisciplinary Latino/a/Hispanic and Latin American Studies into your major. Your courses will increase your knowledge of Spanish and Latin American societies, and you'll have the opportunity to study abroad in the Spanish-speaking world.
Student-designed major in Chinese or French
For more information on how you can combine the depth of advanced coursework in Chinese or French with courses in other disciplines for student-designed majors in these languages, please contact the ILC chair. For more information on these programs in general, see About the Minor.
Student-designed major in Latino/a/Hispanic and Latin American Studies
For more information on this multidisciplinary area of study that incorporates coursework from ILC, History, and Political Science, please contact the ILC chair.
For information on a discontinued major, see the catalog under which you entered.