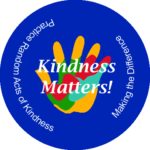 National Random Acts of Kindness week will be February 12-18, 2017. SMCM's Staff Senate encourages all members of our community to participate in this week. During each day of RAK week and especially on National RAK Day, February 17, we challenge you to do at least one act in the list below – the same each day or varied. Better yet, do multiple acts each day! We could all use a little extra kindness in our lives!
Leave an anonymous thank you note for a friend and/or colleague
Write a kind thought on a sticky note and leave it in a public place (e.g., bathroom mirrors, bulletin boards, classroom whiteboards)
Smile at strangers
Give a compliment
Hold the door open for someone
Bring a treat to share with others outside
Pick up litter if you see it along your path
Introduce yourself to someone new
Pay for a meal in the Great Room or drink at the Daily Grind for the person behind you in line
For more ideas, check out https://www.randomactsofkindness.org/ and these 75 Random Acts of Kindness Ideas from Baudville. Some cost a little and some have no cost at all.
Of course, it does not really end on February 18. We hope that you will engage in random acts of kindness each and every day within our community and within your local community. It is the little things that build a more positive environment which helps us all thrive!