Adam Werblow
Head Sailing Coach
Adam Werblow will be entering his 36th season as the head coach of the St. Mary's sailing team. During his tenure, the team has amassed 17 national titles and the Seahawk sailors have earned over 150 individual All-America honors.  In 2015 Adam was inducted into the ICSA Hall of Fame.
A 1988 graduate of Connecticut College, he was the captain of the sailing team. From 1989-1992, Werblow was a member of the U.S. Sailing Team in the Flying Dutchman class.
He has been the head coach for U.S. Youth Worlds Team eight times and led the team to two gold and two silver medals in 1991, the best record ever at those world championships. In 1999, Werblow was named the Developmental Coach-of-the-Year by the U.S. Sailing's Olympic Sailing Committee.
He is married to Amy Moore and the couple resides in St. Mary's City with their two children, Meredith and Michael, and their labrador, Fluke.
(240) 895-4419
Email: alwerblow@smcm.edu
Bill Ward
Director of Sailing
Bill Ward joined St. Mary's sailing in the Fall of 2006, this will be his 17th season with the Seahawks.
In 23 years of collegiate coaching, Ward has coached teams that have won nine National Championships and amassed thirty-two podium (top 3) finishes at National Championship Regattas. At Team Race Nationals, Ward's teams have finished in the top 3 in eight times ( 3 -1sts, 4 – 2nds, 1 -3rd).
In 2008, Ward was named the US Olympic Committee National Coach of the Year for Sailing by the U.S. Olympic Sailing Committee. That same year, he had the honor of coaching Team USA at the 2008 Beijing Olympic Games (Laser).
Bill was also on the coaching staff of the U.S. Sailing Team for the 2007 Pan Am Games in Rio de Janeiro, Brazil (Laser, Radial, Sunfish) and the 2011 ISAF World Championships in Perth, Australia (Women's Match Racing).
In 2013, Ward coached The American Youth Sailing Force in the inaugural Red Bull Youth America's Cup sailed in AC 45 catamarans on San Francisco Bay. 'The Force' finished in 5th place overall in a ten team field.
In 2016, Bill was named S1D/ Henri Lloyd Coach of the Year by the readers of sail1design.com.
Bill graduated from Georgetown University in Washington, D.C. in 1996, where he was a two-time All-America Honorable Mention (1994 and 1995) and team captain. Ward led Georgetown to the program's first-ever appearances at the ICSA Dinghy and Sloop National Championships.
Bill lives in Saint Inigoes, Maryland with his wife, Kelly, and their son, Liam.
(240) 895-4460
Email: wjward@smcm.edu
Rick Loheed
Assistant Director Waterfront Activities
Rick Loheed joined St. Mary's Waterfront in the summer of 2008, organizing and scoring the SMCM 'Governor's Cup Yacht Race' as his first duty. He loves teaching his 2 sections of the basic sailing class and hopes to teach more. He is a 100 ton licensed Master with Sail Endorsement, Inland.
Rick is an avid Sailor and accomplished Marine Engineer. In May 2000 he earned membership in the Society of Naval Architects and Marine Engineers and is a member of the International Hydrofoil Society. He believes strongly in a 'vertically integrated' approach, maintaining that hands on skill development must be included in higher education. Toward his personal goal of learning engineering design he is a skilled machinist and welder, computer programmer, data reduction specialist, design engineer and hydrodynamicist. He learned fluid dynamics building and operating gas turbine, rocket research apparatus, water channels and wind tunnels in a satellite laboratory of Purdue University's School of Mechanical Engineering as he attended classes in MET.
He discovered sailing 'scows' in 1985/86. Joining the Lafayette Sailing Club and sailing an M-16 scow he won the 'Rookie of the Year' in 1986, winning the season Championship in 1987. He served as Race Committee Chairman in 1988 and 1989.
Moving to Maryland in 1991 he began a career engineering control systems for advanced marine vehicles. He continued to race sailboats in Solomon's and created the 'St. George Island Yacht Club' to further the sport of sailing. He continues to 'import' and promote his beloved Midwest scows, frequently teaching sailing using his MC-Scow.
Rick engineered and built much of the support and organizational equipment in use at the Waterfront today.
(240) 895-4291
Email: rwloheed@smcm.edu
Bradley Adam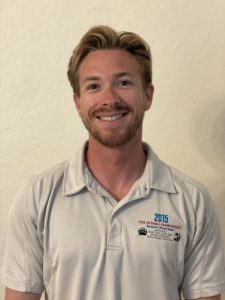 Assistant Varsity Sailing Coach
The East Greenwich, Rhode Island returned to St. Mary's College in the Fall of 2023 after spending five years as the Head Varsity Sailing Coach for Washington College in Chestertown, MD (Aug. 2018 – June 2023). Coach Adam was able to lead the Washington College team to nine MAISA Open Conference Championship appearances during that time as well as re-developing a Women's sailing team at the school.
During the summers, Coach Adam works as a private coach for high-level youth sailing in the Optimist and Club 420 classes.
As a student at St. Mary's from Fall 2013 – Spring 2018, Coach Adam graduated with a double major in Economics and Public Policy while actively competing as a varsity sailing team member. Adam was able to finish off his collegiate career with a second place finish in B Division at ICSA Open National Championship Finals after winning B Division in the National Championship Semi-finals.
(240) 895- 4460
Email : badam@smcm.edu