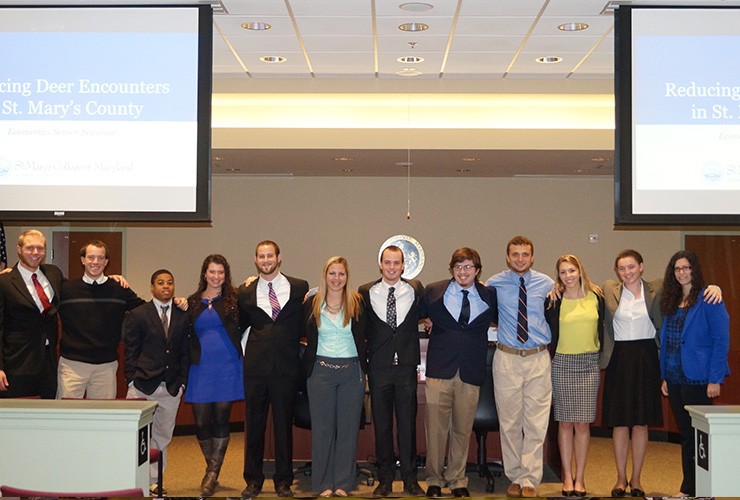 This semester brought a new course to the Economics Department. "Valuation in Environmental and Natural Resource Economics" is an experimental survey and statistics class that economics majors could take to fulfill their 400-level capstone experience.
One of the motivations for introducing the course into the curriculum, says Dr. Amy Henderson, assistant professor of economics and course instructor, was to provide students the opportunity to use tools they had been developing over the course of their studies to "do economics" by engaging in meaningful applied economic analysis outside the classroom. Henderson also wanted students to have the chance to take more advanced statistics coursework in the major.
Henderson taught students about contingent valuation, a methodology that assigns value to intangible amenities, or, put differently, assesses the monetary demand for things not traded in the marketplace. Students explored the literature on contingent valuation to ascertain state-of-the-art best practices for employing the methodology.
To put their new-found knowledge to the test, the class broke into teams and researched local issues where contingent valuation could be applied. A consensus was formed and they decided to explore the demand for reducing deer vehicle collisions, or DVCs, in St. Mary's County.
More than one million deer encounters occur each year nationwide, while 32,000 of those encounters occur in Maryland alone; ranking it in the top 15 states for DVCs. According to estimates based on state data, Henderson's class found that St. Mary's County experiences about 550 DVCs per year, which causes an approximate $1.65 million in vehicle damages.
After thoroughly researching the DVC issue, the students developed a theoretical policy to construct eight-foot high fencing made of gentle, yet durable, plastic mesh material that would prevent deer crossings in high-risk areas. They developed a survey instrument in accordance with best-practices, and then turned to the local community for input. Focus groups with residents from Leonardtown, Lexington Park and Park Hall helped the students refine the survey instrument before mailing it to the broader community. "This direct engagement with local residents was crucial in developing a clear, credible and effective final survey instrument," says Henderson.
The survey was mailed to 1,000 randomly selected households in St. Mary's County. Among several questions, residents were asked their opinion on a one-time tax on county households to fund the deer-fencing project. When surveys were returned, the students again followed best practices to ensure anonymity and accuracy of the data collected. The class statistically analyzed the survey data and concluded that residents placed an estimated $1,064,663 value on the theoretical proposal.
"One of the areas where economics and governance interact is conducting cost-benefit analysis to inform effective policy making," says Professor of Economics Russell Rhine.
On Dec. 9, in the Commissioners Meeting Room in Leonardtown, Md., Henderson and her students presented their findings before local policy makers—including Dr. Rebecca Bridgett, the county administrator, Mr. Jack Russell, the president of the county commissioners, and Mr. George Erichson, the director of public works and transportation.
"It was certainly a very interesting experience to work with the community and get opinions on not only the survey, but the topic as well," Kara Kotler '14 said. "I feel it is important for the college to engage with [members of the] community because they are a great resource for the college."
An important part of the capstone experience, says Henderson, is transitioning students from learning about economics to doing economics. "My goal is to get students to see the potential of what they've been learning all along," she said. Henderson hopes, too, that her lessons will motivate her students to tackle meaningful projects in their futures.
"Valuation in Environmental and Natural Resource Economics" is expected to be offered every fall; students will study a different topic each year. The course was made possible by a grant from the Andrew W. Mellon Foundation.