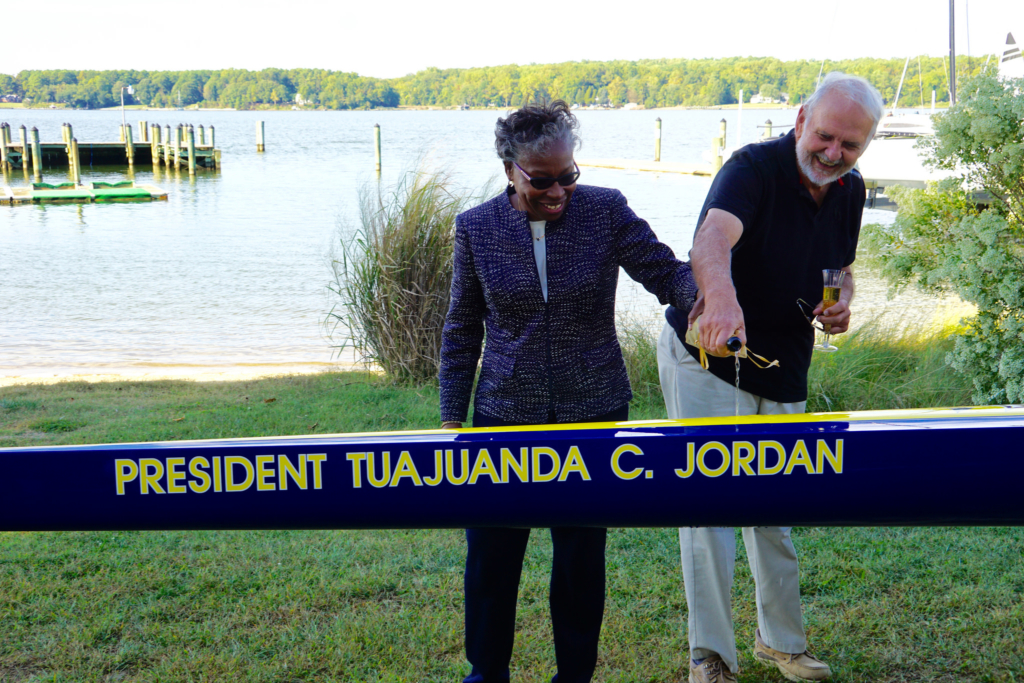 With a ceremonial champagne pour, the St. Mary's College rowing team, now in its second year as a varsity sport, today christened the newest addition to its fleet.
Donated to the team by friend of the College and former Foundation Board of Directors member Dr. William "Bill" Seale, this eight-person rowing shell, named "President Tuajuanda C. Jordan," is slated to be the top boat for the women's team. The eight fastest women on the team will crew this new vessel.
"It will be an honor for crew members named to this new shell for race day," said coach Daniel Hagelberg.
The shell gifted to the College from Bill Seale will go a long way in helping the growing team. In its two years as a varsity sport, the rowing team has grown from 25 to nearly 50 athletes. Hagelberg thanked all those who have had a hand, including athletes, in embracing the vision he has had for rowing at St. Mary's College being among the best.
This gift to the Seahawk rowing program is not the first in generous gestures from Seale and is certainly not the first gift to impact the waterfront.  Several years ago, he donated the sailboat "Riptide" to the waterfront program. He also ignited the College's $2.5M Capital Campaign Challenge with the first gift, provided support for the St. Mary's Undergraduate Research Fellows program, and established the William Seale Teaching and Learning Fund.
Hagelberg said Seale's gift represents more than just a boat as it ensures the team has top equipment in which to compete and seats for all who want to row at the College. "This new boat is going to live in our boathouse, but it will be woven into the experience of rowers on this team for many, many years to come."
St. Mary's College of Maryland is accredited by the Middle States Commission on Higher Education through 2024-2025. St. Mary's College, designated the Maryland state honors college in 1992, is ranked one of the best public liberal arts schools in the nation by U.S. News & World Report. Approximately 1,600 students attend the college, nestled on the St. Mary's River in Southern Maryland.