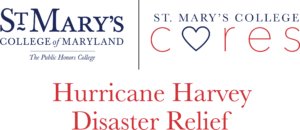 St. Mary's College of Maryland students led by the Student Government Association have initiated a disaster relief effort called St. Mary's College Cares to collect non-perishable items to aid more than 56,000 students and their families devastated by Hurricane Harvey. St. Mary's College alumni located in southeastern Texas helped coordinate with the Pasadena Independent School District that has more than 60 schools within its district.
"Like people everywhere, the College community has great concern for the people of Texas devastated by Hurricane Harvey," said Tuajuanda C. Jordan, president of St. Mary's College. "Our students follow the St. Mary's Way, a concept adopted by the College community that centers on respecting one another and the world around us. By initiating this disaster relief effort, our students not only are following their code of conduct but showing that they care deeply and want to respond."
Campus and community individuals wishing to contribute, can drop-off items on the College campus, Friday and Saturday, Sept. 22 and 23, from 10 a.m. to 4 p.m.
Items most in-need include School Supplies: pencils, pens, crayons, carpet squares, bean bags, dry erase markers and erasers, book bags, earbuds for computers, notebooks, construction paper, copy paper, small area rugs for classrooms, library books for 7th – 8th grades, band/orchestra instruments; Personal Supplies: phone chargers, new packaged socks of all sizes, new packaged underwear, trash bags, toiletries, cleaning supplies, diapers, towels, paper towels, pet food and all types of nonperishable food.
Those wishing to make a monetary donation in order to purchase non-perishable items to be delivered to southeastern Texas can do so here at www.smcm.edu/cares-harvey.
Local organizations and businesses that wish to participate are encouraged to complete the contact form: www.smcm.edu/cares. St. Mary's College students will then reach out to those willing to give to coordinate further. For more information, contact Director of Student Activities Kelly Schroeder at 240-895-4209 or 240-577-2955.
St. Mary's College Foundation Board Member and alumnus Jack Saum Jr. '89, owner of Beltway Companies, has generously donated a truck and driver in order to make the journey with the non-perishable items to southeastern Texas.
St. Mary's College of Maryland is accredited by the Middle States Commission on Higher Education through 2024-2025. St. Mary's College, designated the Maryland state honors college in 1992, is ranked one of the best public liberal arts schools in the nation by U.S. News & World Report. Approximately 1,700 students attend the college, nestled on the St. Mary's River in Southern Maryland.