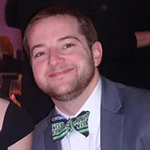 Matt Nierenberg '08
Major: Computer Science
Matt started his career working at a subsidiary of Raytheon where he specialized in developing Command and Control software for the U.S. Air Force. After four and a half years there, he moved on to smaller companies and is now a Senior Software Engineer at Focused Support, LLC. Matt works on a variety of systems dedicated to improving the mission of the USAF Operators.
Paul Hinders '07
Major: Computer Science
Paul is currently a Senior Security Engineer for SAP Software Solutions.