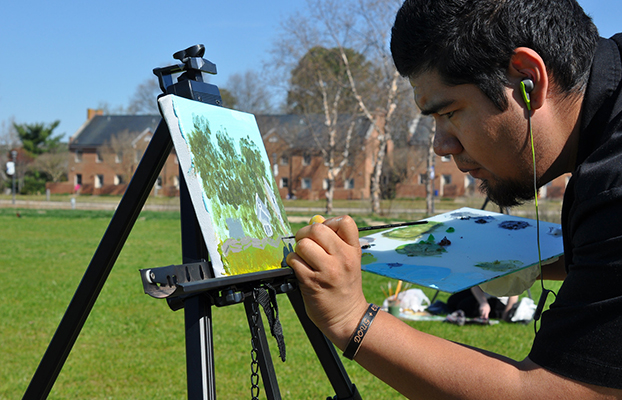 As an art student at St. Mary's College, you can explore the many possibilities of creative expression in the visual arts, as well as methods, materials, and ideas inherent to making works of art.
As a St. Mary's College art major, you will be introduced to art-making skills, techniques, and concepts in an academically rigorous yet supportive environment. You will learn critical thinking, reflection and self-evaluation, articulation of creative intentions, and historical artistic contexts. The major is designed to help you form and develop your personal vision.
Because our curriculum values interdisciplinary study, many students complete second majors and minors in other fields. We encourage a diverse range of interests to give our students a wide variety of options after graduation.
An art major may focus on:
Animation
Art Education
Drawing
Digital Media
Illustration
Painting
Photography
Printmaking
Visual Design
Or a combination of any of these
Portfolios are not required for acceptance to SMCM and the Art major, however, we recognize achievement in the arts and we encourage you to submit samples of your work for review by our faculty. Click here for more information.