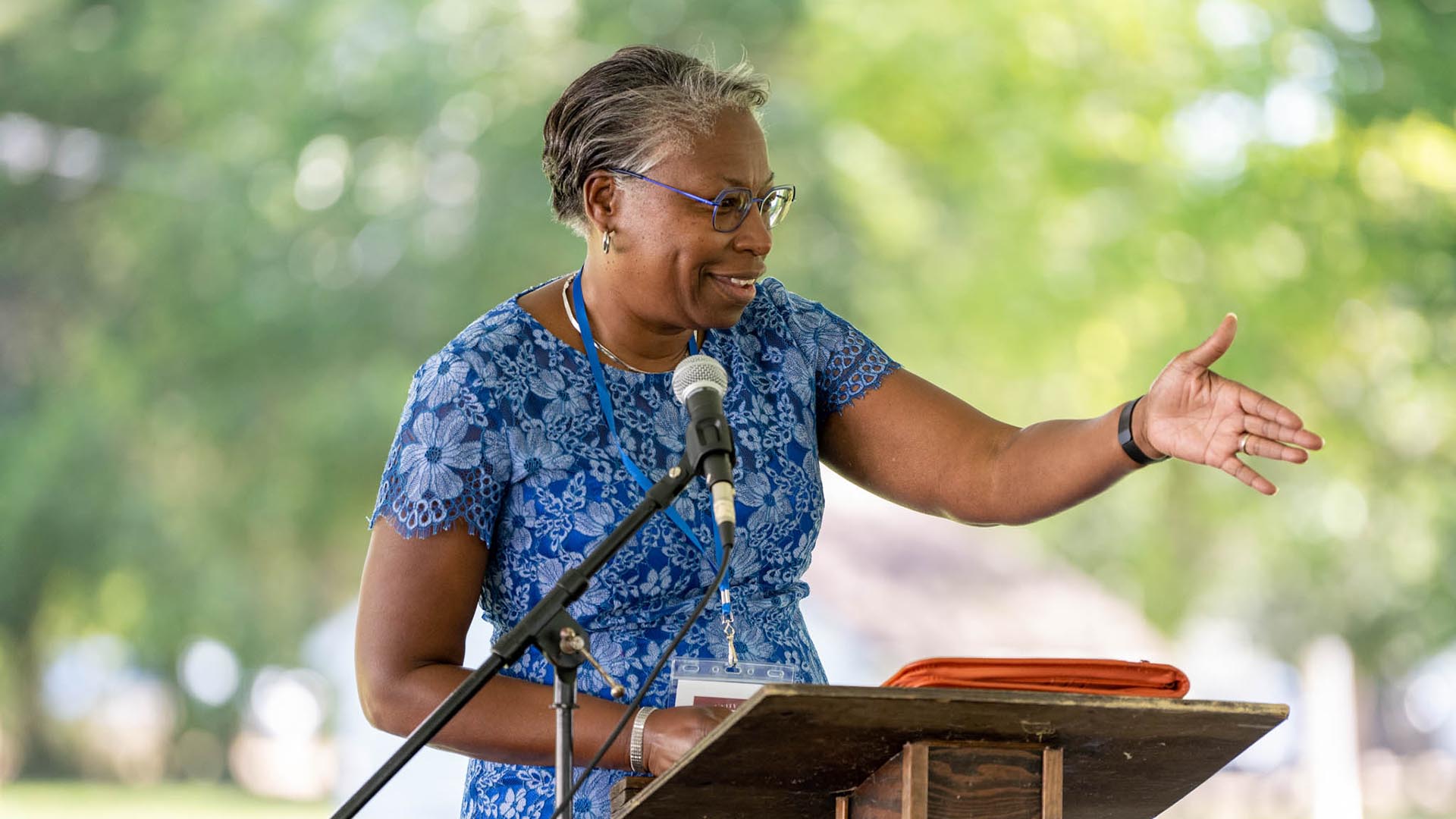 St. Mary's College of Maryland President Tuajuanda Jordan was one of the principal invited speakers at Historic Sotterley's "Day of Unity and Healing" on Saturday, August 20, 2022.
Good afternoon.  I want to begin by thanking Ms. Bankins for inviting me to speak at this important event. I appreciate her passion and commitment to this endeavor and hope she realizes that the results of her labor will impact us all for many years to come.  Thanks, too, to the organizers and supporters for this excellent day.
As I wrestled with coming up with a topic for today's remarks, I kept returning to the theme, Unity and Healing and I found that I was focused on the word "unity"…Umoja…Ah, Kwanzaa. 
Traditionally, Kwanzaa is an annual holiday affirming African family and social values that is celebrated from December 26 to January 1.  The concept of Kwanzaa draws on Southern African first-fruits celebrations. It was conceived as a nonpolitical and nonreligious holiday, and it is not considered to be a substitute for Christmas.
I know some of you, including Ms. Bankins, are saying, "Why is Tuajuanda, who is supposed to give us the call to action, talking about Kwanzaa?" That's a valid question. I am certain many of you have heard the phrase "Christmas in July". Well, Kwanzaa, a holiday that occurs in December, is not meant to be a substitute for Christmas; it comes after Christmas. So, let's start a new tradition in Southern Maryland. After we celebrate Christmas in July, why not re-commit ourselves to living according to the principles of Kwanzaa in August? After all, the first principle of Kwanzaa is an essential element of this day, The Day of UNITY and Healing. 
Each of the days of Kwanzaa is dedicated to one of the seven principles: unity (umoja), self-determination (kujichagulia), collective responsibility (ujima), cooperative economics (ujamaa), purpose (nia), creativity (kuumba), and faith (imani). 
I am going to spend a bit of time discussing each of the principles. Note that the definitions are adapted from Asekwa Myers' series "Seven Principles of Kwanzaa."
"Honest and inclusive conversations about the past put us on the path to healing as we acknowledge the events of the past and endeavor not to repeat them."
The first principle, umoja, is translated as "unity".  Umoja is to strive and to maintain togetherness in our family, community, nation, and race. The gathering today represents just that. We have come together to eat, drink, and be merry while we learn the history of this place, here at this historic site that so profoundly represents the stark contrasts between the haves and the have nots; the slave owners and the enslaved. Honest and inclusive conversations about the past put us on the path to healing as we acknowledge the events of the past and endeavor not to repeat them. 
Kujichagulia "self – determination" is to define ourselves, speak for ourselves, and create for ourselves instead of being spoken for by others. Agnes Kane Callum is the exemplar of kujichagulia in her endeavor to learn the truth, to speak the truth, and get others to join her in acknowledging the truth about the descendants associated with this place.
Ujima, the 3rd principle means "collective work and responsibility".  It is to build and maintain our communities together and to make our brothers' and sisters' problems our problems and to solve them together. I believe the Descendants Project of Sotterley Plantation represents aspects of ujima.
Ujamaa, "cooperative economics", is to build and maintain our stores, shops, businesses in our community and to profit from them together. The Sotterley Foundation is doing just that and on the Board we have descendants of the enslaved, the slave owners, and a broad spectrum of community members who support the mission of the plantation to "embrace our responsibilities to interpret all aspects of our shared history."
The 5th principle, nia, "purpose", is to make our collective vocation the building and development of our community, in order to restore our people to their original greatness.  What is the original greatness in the broader context of unity and healing in this country? I am going to use a bit of kuumba, the next principle, in a few minutes and bring this back to an evolved interpretation of "our original greatness".
Kuumba, "creativity", is to always do as much as we can, in any way that we can, to make our community more beautiful, more harmonious, than when we inherited it, than it is today.
And, finally, the 7th principle, imani, "faith", is to believe with all our hearts in our people, our parents, our teachers, and our leaders; and to believe in the righteousness of the victory of our struggles.
Now, although I did not directly relate each of the seven principles to everything associated with Historic Sotterley, I hope the principles resonate with you and the connection becomes a little clearer by the end of my remarks.
I feel very strongly that education plays a significant role in moving this country forward. During my remarks at a relatively recent local event, my constant refrain was "Enlighten. Educate. Empower." We have here today prime examples of those in the community working to enlighten and educate.  These actions will lead many to feel empowered to act. Knowledge is power.  Only through action, finding our voices, and using our collective strengths will we be able to break the chains associated with the past and move this nation forward for all people. 
"For all people" is a phrase that is so simple to say but its implementation in any endeavor is immensely difficult to achieve because the collective – "all people" – is comprised of individuals and individuals have different motivations and aspirations that oftentimes get in the way of doing what is in the best interest of the masses, the best interest for humanity because, what is "best"? The word in and of itself is relative – what is good for a few, might be better for many, but rarely is there an instance where it is considered best for "all".
As I grow older and more contemplative, I am spending a lot more time thinking about the founding of this republic, the birth of our democracy. The founding fathers of this democracy were true visionaries and they put it out there that "All" men are created equal. I find that I revisit the idealism represented in the preamble to the Declaration of Independence quite often. The words are inspiring and I daresay represent aspirational idealism. We believe in the concept of life, liberty, and the pursuit of happiness but the road to those ideals has been challenging to say the least. Why? Why has it been so challenging to make the aspirational idealism of the 18th century a reality in the 21st ?  Well, evolution is a slow process. So slow, in fact, that you don't even realize it is happening until it is done; until a new species has appeared; until a new way of thinking has emerged and been adopted. When the documents that laid the foundation of this republic were written, they represented a new way of thinking. 
Three centuries later, the principles laid out in those documents still guide our democracy yet the interpretation of the meaning of the words has, for the masses, evolved to something greater than the originators could have imagined.  The concepts of "all" and "equal" were quite different back then from what they are today; the context has changed.
You know, nature has a tendency to adapt when it becomes apparent that things aren't working as well as they used to be.  Throughout history, the pressure to change and adapt has led to revolution and oftentimes war.  Today, instead of revolution and war we have converged for a Day of Unity and Healing and this day represents a step on the path to get us to that better place. It will take engaging and inspiring occasions like today to help enlighten, educate, and empower us to move the nation to reconcile with its past and to live up to its potential for the "greatness" to which I made reference earlier.  And, what is that "greatness"? The realization and institutionalization of the concept that All men and women are created equal and have the inalienable right to pursue life, liberty, and justice.  
"It will take engaging and inspiring occasions like today to help enlighten, educate, and empower us to move the nation to reconcile with its past and to live up to its potential for the 'greatness'…The realization and institutionalization of the concept that All men and women are created equal and have the inalienable right to pursue life, liberty, and justice."
As a brief sidenote, on October 7, 2022, the College will host a panel of influencers charged with addressing the question: can the inalienable rights referenced by the fathers of the Constitution exist for all Americans in the 21st century?  The panelists will include Jelani Cobb, award winning writer, author and a thoughtful voice in progressive politics; Mara Liasson, a national political correspondent for NPR and frequent Fox News Channel contributor; and Bill Kristol, a dyed-in-the-wool conservative and founder of influential publications such as "The Weekly Standard" and "The Bulwark." The moderator will be journalist and former CNN Chief White House correspondent Jessica Yellin.  The event is free and open to the public and will take place in our new Performing Arts Center. Check the College website for the time. I hope to see you there. End of commercial.
The seven principles of Kwanzaa, the holiday created by Malaunga Karenga, a professor of African Studies at Cal State Long Beach, present a roadmap to a better future. In order of the traditional celebration they are: umoja, kujichagulia, ujima, ujamaa, nia, kuumba, and imani.  The work of those of you associated with this event and this place are prime examples of living and doing according to the principles of Kwanzaa.  These principles are quite relevant to today's theme, UNITY and HEALING. And, they represent, as a collective, our call to action – although Dr. Karenga may not appreciate that I am about to change the order.  
There must be some level of healing if true unity is to be achieved and for this nation to live up to the true meaning of its creed.  The call to action is this: 
To heal from the actions of the past, each of us must be determined (kujichagulia) and have a sense of purpose (nia) and collective responsibility (ujima) to make it so. We must have faith (imani) that we can forge a path forward. This forward movement will, of course, require a bit of creativity (kuumba) and cooperative economics (ujamaa) to breakdown or work around the systems that have impeded our progress in this democracy. Nevertheless, when all of these principles are enacted, umoja, unity, will become a reality and we can heal!  
This event today has demonstrated that we are well on our way and I ask that each of us, individually and collectively, continue to make it so. And this, in the end, will be the victory for our struggles.
Thank you.