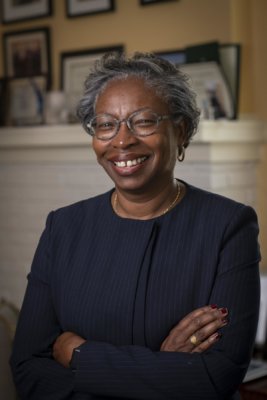 Dr. Tuajuanda Jordan has served as St. Mary's College of Maryland's (SMCM) seventh president since July 2014.
During her tenure, the Board of Trustees approved A Time for Rebirth, a new three-year strategic plan that builds on the College's charter as Maryland's only public honors college and the first of its kind in the nation.
St. Mary's College of Maryland has been widely recognized for its successes. Ranked among the nation's best value colleges by The Princeton Review (2022) and among the top 10 best public liberal arts colleges in the nation by U.S. News & World Report (2022), SMCM continues to build upon its solid reputation for academic excellence under Dr. Jordan's watch. Under her leadership, the College continues to analyze and assess its programming to ensure that students are provided opportunities to be engaged, productive global citizens and leaders.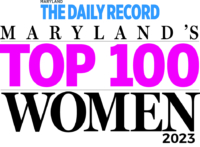 Since joining the College, President Jordan has been widely recognized for her contributions to higher education and the larger community. In March 2023, she was named one of Maryland's Top 100 Women by the Daily Record. Recently, she was named a 2018 American Association for the Advancement of Science (AAAS) Fellow in Science Education. In 2017, she was named one of the Top 25 Women in Higher Education by the national magazine, Diverse Issues in Higher Education. In addition to serving on numerous national panels and boards, she was recognized as a Black Leader in Education by the AFRO (2017), was named one of Fisk University's Talented Tenth (2016), Purdue University's Distinguished Women Scholars (2015-16), and as an Influential Marylander by the Daily Record (2015). She received an Education Excellence Award (2018) from the Southern Maryland Minority Chamber of Commerce, the Torchbearer Award (2014) from the National Coalition of Black Women, Baltimore Metropolitan Chapter and was inducted (2015) into the Zeta Chapter of Phi Beta Kappa, the nation's oldest academic honor society.
Prior to SMCM, Dr. Jordan served as dean of the College of Arts and Sciences and as a professor of chemistry at Lewis & Clark College in Oregon. While there, she helped recruit an exceptional and diverse faculty, launched a center for entrepreneurship, and developed a campus-wide system to increase student persistence and graduation rates. While an associate dean and tenured faculty member in the College of Arts and Sciences at Xavier University of Louisiana, she helped establish the center for undergraduate research and creativity.
Dr. Jordan gained national prominence in the realm of science education with the creation of the Howard Hughes Medical Institute's Science Education Alliance (SEA) program and the launch of its first initiative, the SEA Phage program, which engaged novice undergraduates in research in genomics and bioinformatics. This program has been implemented at more than 50 diverse institutions across the nation, impacted thousands of students and faculty, and resulted in numerous scientific and pedagogical publications.
President Jordan holds a B.S. in chemistry from Fisk University and a PhD in biochemistry from
Purdue University.
View CV of Tuajuanda C. Jordan, PhD