(2/25/2022)
For those who were unable to attend President Tuajuanda C. Jordan's State of the College "Our Truth is Marching On" address that took place on February 25, 2022, a recording of it can now be found here.
(12/8/2021)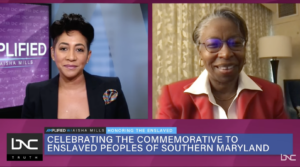 On Nov. 30, 2021, BNC News Aisha Mills talked with Dr. Jordan about how she faced head-on America's and her own institution's painful history with slavery.
(9/29/2020)
"Premier Education. Access and Affordability. With a Commitment to Diversity," State of the College, Fall 2020 Presented on September 24, 2020 This is probably the most challenging State of the College address I've had to prepare. What should I speak on besides the pandemic? After all, it has consumed 75% of the work being done Find out more »
(2/8/2019)
President Tuajuanda C. Jordan delivered the State of the College Address on January 25, 2019. The focus of her address was "Dismantling the Ivory Tower and Building Something Greater.
(2/6/2019)
Dr. Tuajuanda Jordan, president of St. Mary's College of Maryland, delivers the Fall 2018 State of the College address. With the theme, "LEADing the Way," President Jordan discusses the College's new branding initiative as the National Public Honors College.
(3/6/2018)
Dr. Tuajuanda Jordan, President of St. Mary's College of Maryland, delivers the Spring 2018 State of the College address. The theme of her address is "Commemorate the Past, Live in the Present, and Prepare for the Future". Dr. Jordan provides an overview of the progress made over the past year as well as recognizing employees for years Find out more »
View all Videos