Unveiling the essence of innovation and resilience – the St. Mary's College of Maryland Trailblazer Award stands as a testament to those who lead with unwavering determination, shatter conventions, and light the way for others. Established in 2015, the President's Trailblazer Award recognizes individuals associated with the College who have achieved notable firsts.
Past Awardees
Laurie Scherer, director of the Wellness Center (2021)
Bradley Newkirk, director of the physical plant (2021)
Julia King, professor of anthropology (2019)
The Patuxent Partnership (2018)
Julie Croteau '93 (2017)
Donnie Bryan (2016)
Ted Lewis (2016)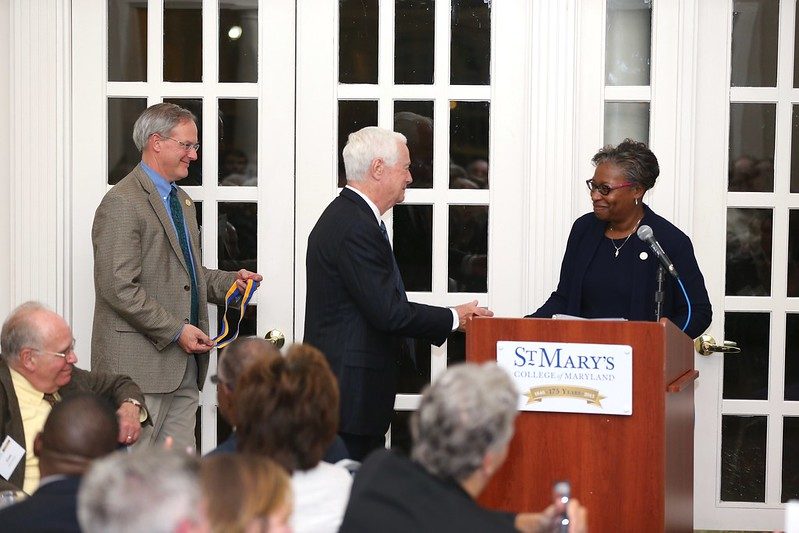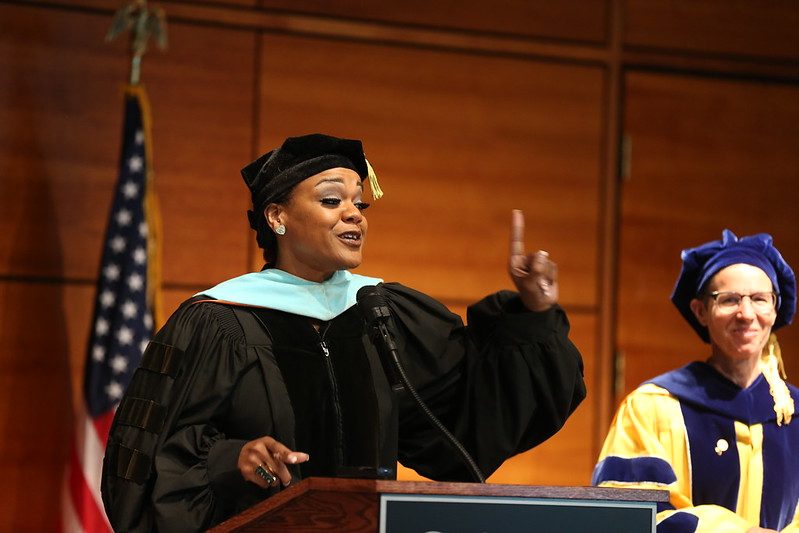 This award recognizes a member of the St. Mary's College community who demonstrates leadership and effectiveness in deepening students' experiential and integrative learning. In particular, the awardee should demonstrate a commitment to and documented success in fostering students' ability to make connections across learning experiences. Such experiences may be both formal and informal, inside and outside the classroom, as part of the curriculum and/or co-curriculum, in which students are able to develop and connect their knowledge and skills across broad and specialized study in the solution of complex problems or analysis of complex situations.
Past Awardees
Gili Freedman, assistant professor of psychology (2023)
Crystal Oliver, lecturer of English (2022)
Sahar Shafqat, professor of political science (2021)
Joanna Bartow, professor of Spanish (2020)
Barry Muchnick, assistant professor of environmental studies (2019)
Janna Thompson, assistant professor of educational studies (2018)
Veronica Arellano-Douglas, reference and instruction librarian (2017)
Embracing excellence: the St. Mary's Award. A celebration of exceptional achievements and contributions, this prestigious honor pays tribute to individuals who embody the St. Mary's Way, leaving an indelible mark on our community and beyond.
Past Awardees
Lawrence Leak '76, trustee emeritus (2023)
Student Government Association, Erin Lanham '22, SGA president (2022)
Bradley Newkirk, director of the physical plant (2021)
Men's Basketball Coaches, Chris Harney '97, head coach (2020)
Habitat for Humanity Student Chapter (2019)
Michael Cain, professor of political science (2018)
Anthony Guzman, assistant registrar (2018)
Lucy Myers, fiscal associate II (2018)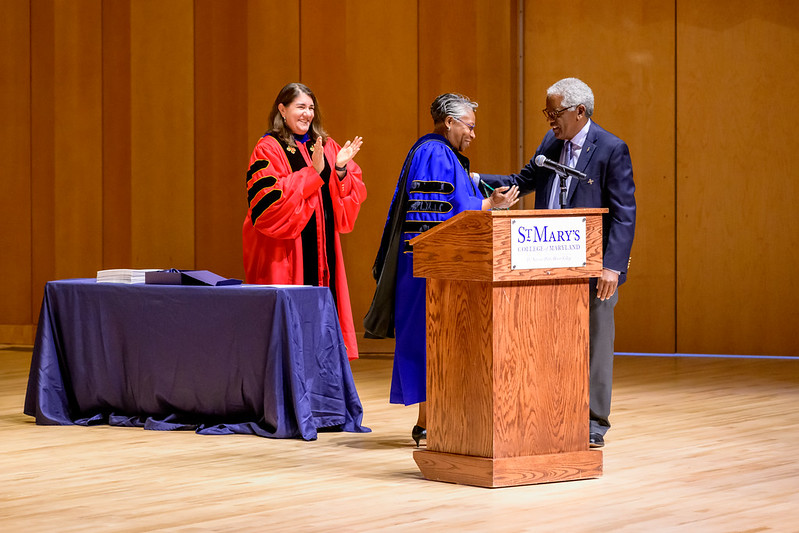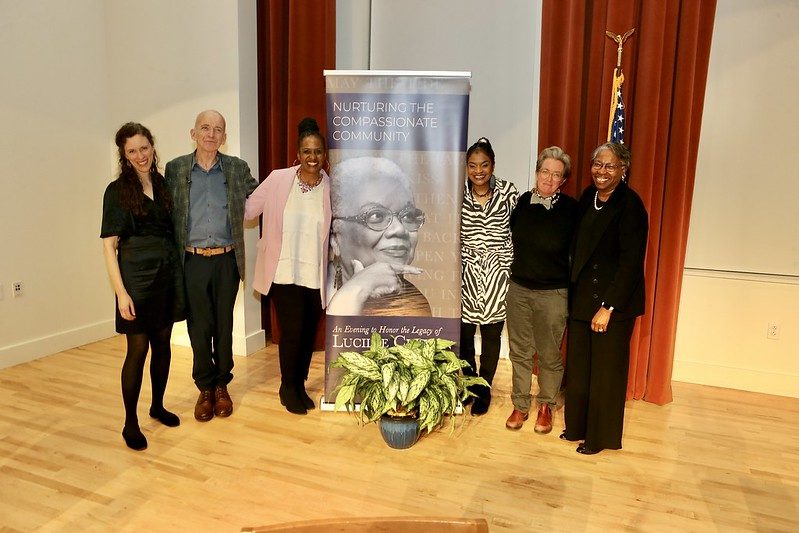 Lucille Clifton Legacy Award
Established in 2017, the Lucille Clifton Legacy Award recognizes writers of national acclaim whose work continues the legacy of Lucille Clifton's belief that literature can model intelligent engagement, truth-telling, and commitment to justice and compassion. Each year, the awardee is invited to campus to give a reading of his/her work during the Evening to Honor the Legacy of Lucille Clifton event held near the cusp of Black History and Women's History months.
Past Awardees
Legacy: Gabrielle Calvocoressi; Sage: Mark Doty (2023)
Legacy: Raymond Antrobus; Sage: Carolyn Forché (2022)
Legacy: Leah Naomi Green; Sage: Li-Young Lee (2021)
Legacy: Danusha Landris; Sage: Naomi Shahib Nye (2020)
Legacy: Ashley M. Jones; Sage: Sonia Sanchez (2019)
Legacy: Aracelis Girmay; Sage: Elizabeth Alexander (2018)
Legacy: Yona Harvey; Sage: Toi Derricotte (2017)
Presidential Lecture Series
Introducing the essence of intellectual exploration – the Presidential Lecture Series. Delve into a world of ideas as we bring you renowned visionaries and experts who share their insights, research, and wisdom in a series of captivating talks that inspire and illuminate.
Past Speakers
Anna Deavere Smith (2023)
Jelani Cobb, Bill Kristol, Mara Liasson, Jessica Yellin (2022)
Anna Deavere Smith (2021)
Jay Williams (2020)
Kathleen Parker (2018)
Walter Mosley (2017)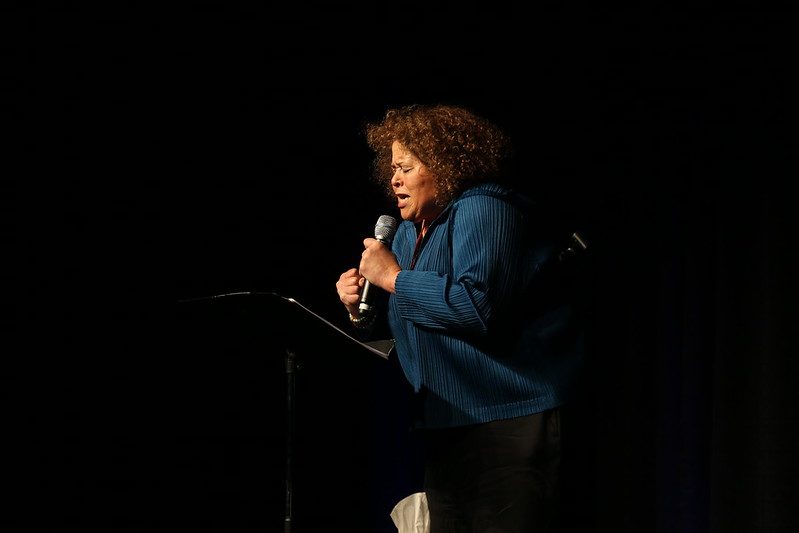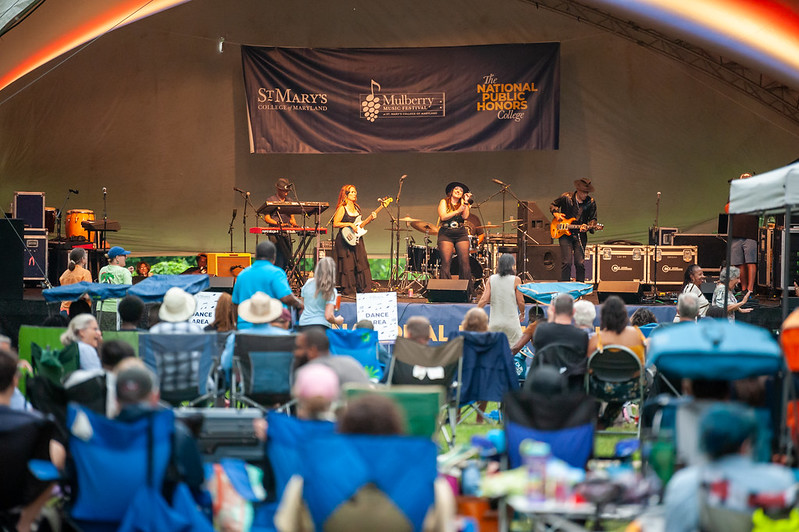 The Mulberry Music Festival is a vibrant convergence of musical talents, fostering creativity and community spirit within our esteemed academic setting. At St. Mary's College, we value our liberal arts foundation – the diversity of thought and expression, creativity, and respect for self and others. We teach students how to express themselves in order to add color and life to our world in a way that only each unique individual can. In this spirit of creativity, the Mulberry Music Festival was created in order to bring people together around the universal language that is music.
Past Performers
The JoGo Project, Carly Harvey, Oh He Dead, Kevin Howard, The Boneshakers (2023)
Sharón Clark, The Kelly Bell Band, Joseph Brotherton, Carly Harvey (2022)
The Nighthawks, The Kelly Bell Band, The Josh Riley Band (2021)
Bishop Jason Nelson, Pastor John Tillery & Living Sacrifice, Posse 4 Christ, Dominion Apostolic Choral, South Point Church, Ministry of Love in Christ Choir, St. Luke's of Scotland, St. Peter Claver (2019)
Students have the chance to take part in a laid-back yet engaging event where they could share their questions or concerns directly with the President. This friendly session, complemented by refreshments, gives students a platform to voice their thoughts openly. This initiative facilitates genuine conversations and further strengthens the bond between students and the President.