sus·tain·a·bil·i·ty
/səˌstānəˈbilədē/
noun
the ability to be maintained at a certain rate or level.
"the sustainability of economic growth"
avoidance of the depletion of natural resources in order to maintain an ecological balance.
"the pursuit of global environmental sustainability"
Sustainability is about connections.
We are connected to each other, to our built environments, to our natural environments, and to our cultural environments. Sustainability seeks to acknowledge those connections and create a more equitable and respectful space for everyone and everything in our environment.
SMCM's Office of Sustainability is focused on creating opportunities for students, faculty, and staff to make more sustainable choices. We are always looking at new ways to lessen our negative environmental impact and improve our positive social impact.
Sustainability is an incredibly complicated and intertwined subject that is always changing. There is no perfect solution, but there is always something we can do better. Each step, no matter how small, will get us closer to a sustainable future. We know we cannot do this without you so thank you so much for taking steps to become more sustainable!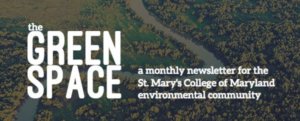 If you'd like to receive The Green Space,our monthly email newsletter packed with information and updates concerning all things Environmental Studies and Sustainability, click here.  You can also review past newsletters!