Composting
Available for all dorms and is picked up once a week by our interns. The waste is taken to the Kate Chandler Campus Community Farm where it is used to grow food. We also compost coffee grounds from the Daily Grind and are working to find a workable solution to compost food waste from the Great Room. If you need a compost bucket or information on what to compost, please email sustainability@smcm.edu.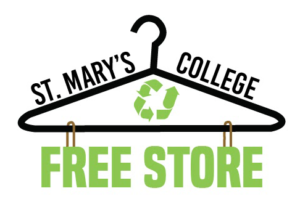 The Campus FreeStore
Open to all SMCM community members. Everything inside is FREE! We have clothing and shoes, books, kitchen items, office supplies, and other miscellaneous objects. The FreeStore is in Queen Anne Hall and is operated by student employees & volunteers. Donation drop-off boxes are in several locations around campus and we have occasional "pop-up" FreeStores at campus center for your convenience. Due to the nature of student schedules, hours and availability are subject to changes often so please check sustainability's facebook or instagram for updates before visiting.  Here are our current hours.
The Green St. Mary's Revolving Fund (GSMRF)
A SMCM-specific grant available for community members who have a proposal that will increase campus sustainability, especially as it pertains to cost-savings for the college.  You can read more about it and find the application here.
Sustainability Consultations
Available by request by emailing sustainability@smcm.edu. If you want to work with our office to create a learning experience, lessen your environmental footprint, cross-promote an event, find information, ask for advice, etc. please don't hesitate to contact us!