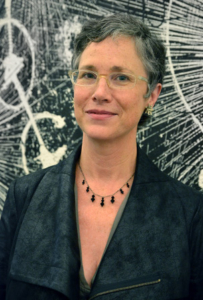 Lecture: Patricia Watts: Art and the Ecology: Some Kind of Nature
Wednesday, February 22, 4:45-5:45, Cole Cinema
Patricia Watts is an Artist House curator-in-residence: February 6 – March 31, 2017
The Art and the Ecology lecture will focus on how contemporary artists are creating projects that partner with communities and environmental groups to make positive change.
Patricia Watts has worked in the nonprofit world for over twenty years and has curated over 30 art and ecology exhibitions, given over 50 lectures, and has written essays for over 20 publications. Considered a pioneer of the art and nature movement, she has a visionary, entrepreneurial approach to problem solving. Watts has an insatiable curiosity and thrives in a transdisciplinary, collaborative environment. She is a team player and leader who enjoys the integration of multiple perspectives. Exhibitions include Enchantment (2016), Shifting Baselines (2013), MAKE:CRAFT (2010), and Hybrid Fields (2006). Watts curated and project-managed a permanent site-specific outdoor public artwork, Cloud House (2015– 16), at Farmers Park in Springfield, Missouri; and a temporary public artwork, Windsock Currents (2005), on Crissy Field in the Presidio, San Francisco, for UN World Environment Day. She is currently Consulting Curator for the Marin Community Foundation in Northern California and is founder of ecoartspace. http://patriciawatts.blogspot.com
Sponsored by The Department of Art and Art History, Artist House Residency Programs, Lecture and Fine Arts Committee, Environmental Studies Program, and the Museum Studies Program.