Graduates of the Asian Studies department have gone on to pursue graduate degrees in many different fields. Among their chosen institutions are:
University of California, San Diego
American University
Brock University
University of Montana
Carlow College
University of New Orleans
University of Iowa
Case Western Reserve University
Short Bio – February 2018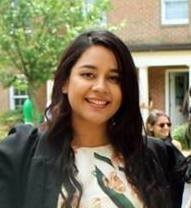 My name is Mayumy Rivera, I'm originally from El Salvador but moved to Baltimore City in 2009. I graduated from St. Mary's College of Maryland in 2016 where I obtained my bachelor's of arts in Asian Studies and Chinese Language. I had the opportunity to study abroad for one-academic year in Fudan University (Shanghai, China) and at the end of my senior year of college I obtained the CLS scholarship to study in Dalian, China during the summer of 2016.
After graduating college, I decided to take some time for myself and to explore South America and so I moved to Sao Paulo, Brazil in March 2017. While living in Brazil, I have had the chance to travel to many parts of Brazil, I have been learning Portuguese, and I have also been working on my online English teaching project. I'm currently working as an English tutor for VIPKID, a large English learning online-platform from Beijing, China. I have also been teaching English and Spanish to adults from different parts of the world (Russia, Egypt, Italy, Spain, Brazil, China) for a couple of months now.
There are so many things I have learned after college, one of them is that I may not be doing what I thought I would do when I was a senior in St. Mary's but my passion for the Chinese culture and language is still alive. Therefore, I will be going back to China this Fall to begin my master's degree in Foreign Languages to continue with my career plans. I plan on living China for the next 2-3 years to develop my project even more and gain more mandarin language and Chinese culture experience.