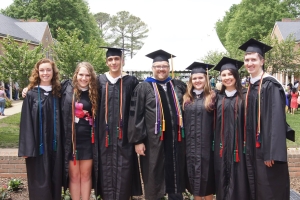 SMCM Biology is excited to announce that we are now offering Bachelor of Science (B.S.) degrees in Biology. This will replace our current Bachelor of Arts degree. All incoming students starting in the fall of 2016 will be on track to receive B.S. degrees.  Current students who would like to opt-in to graduate with a B.S. rather than a B.A. degree will have to contact the registrar at registrar@smcm.edu and apply to change their current catalog to the 2016-2017 catalog.  Students who are opting-in to the B.S. need to make sure that a possible change in their catalog year will not change their requirements for the other majors and minors.
No changes have been made to course requirements for the Biology major.  Our current requirements are in line with, or exceed, the requirements of B.S. degrees offered at our peer institutions.
Biology is one of the many majors that are making the change to Bachelor of Science degrees.  The other majors include Computer Science, Chemistry, Physics, and Psychology.  All new offerings begin with the 2016-2017 catalog.