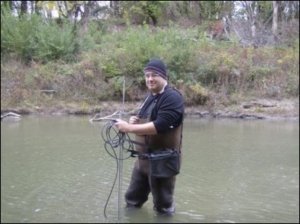 By Sean Wellman
Can you tell me about your research?
Generally speaking, I am an aquatic ecologist, I focus mainly on species habitat relationships; I've done that in both marine and freshwater ecosystems. I am particularly interested in looking at how biodiversity is influenced by habitat, habitat destruction, anthropogenic impacts such as dams and climate change. Here at St. Mary's I am interested in utilizing a relatively new technique: environmental DNA (eDNA) ; instead of traditional techniques that are generally destructive of habitat and invasive, not necessarily reliable, or biased in some way. Environmental DNA will allow us to go into these ecosystems and essentially take a water sample and allow us to calculate biodiversity. It's been used over more traditional techniques because its more feasible, which means we can cover more areas, takes less manpower, its less invasive,you aren't destroying habitat and you are able to get a better estimate of the overall biodiversity. Organisms I'm typically interested in are fishes and they are constantly urinating, defecating, shedding scales, shedding mucus, all of that stuff contains DNA. So we are able to go in and filter these water samples and check them for signatures specific to not only fish as a group of organisms but as individual species. We are starting to get to the point where we can actually quantify abundance as well.
How did you get to where you are now, in terms of your education and science?
It was a long road, I was always interested in sharks as a child, I read everything I could on them. One day, my grandmother asked me what I want to be when I grew up when I was about 8 or 9 years old, she said: "you like sharks, so you should be a marine biologist", I said "ok". Then fast forward a few years, once I got to college, I went to do marine science down at the University of South Carolina, after that I took two years off and worked as an observer, as a biologist aboard commercial fishing boats up in New England, from there I went and got my Master's in marine sciences in San Diego. From there I went to Kansas to get my PhD in aquatic ecology, it was really interesting, I've already had two degrees in marine science, a third one might not be as beneficial as learning a whole new system, it was a lot more interesting, I learned a lot about freshwater fishes and things like dams and agriculture and human introduced impacts. Then as I was finishing my PhD in the last two years, I worked as an instructor at a community college, teaching general biology, microbiology, and anatomy and physiology. Last year, I ended up taking a position as a visiting professor at the University of Tampa. I taught what I guess would be analogous to your POB I and II sequences. Then here at SMCM, I am teaching Coastal Ecology, Contemporary Bioscience, and Ecology and Evolution.
What does your research team currently look like? What projects are they involved in?
Currently, as a visiting faculty member in his first semester, still reaching out for collaborators, a lot of discussions with Dr. Evans and myself collaborating not only on research but trying to get a couple of summer courses together. Then, I have two students who are interested in doing their SMP's on eDNA, and one student who is interested in an independent study on species habitat relationships. There are discussions with Dr. Brownlee and Dr. Gurbisz on setting up stations out in St. Mary's River that will be sampled continuously throughout the year.
Are there any courses that you are excited to teach?
Talking with Dr. Evans, we were kicking around ideas, he's interested in doing a stream ecology course during the summer that would try to be cross listed with environmental studies. If he ends up doing that, so as to not poach each others students, I would do a bio 101 course that I am calling "Ecology of the Chesapeake Bay". It would look into the historical nature of Chesapeake Bay, past land uses, past socio-economic sorts of things within the bay. Currently talking about important species in the bay, conservation and management efforts within the bay but really just a focused ecology course on the Bay itself looking at the past, present, and future. Another course I've been kicking around is a field methods combined with a biostatistics where we would go out and sample, collect data within the course and analyze the data within the classroom. Then students would be expected to come up with hypotheses and put together a project. Then in the future, I'd like to implement a community ecology course.
At St. Mary's, the students have an unofficial slogan "Keep St. Mary's Weird". Do you have any endearing quirks that might fit in with this model?
I am a connoisseur of bad shark movies, I've got Sharknados 1-7 currently on my DVR, I've got DVD's of Sharktopus, Mega Shark vs. Giant Octopus, Mega Shark vs Crocosaurous. All of those bad sci-fi shark movies. I'm not superstitious unless it comes to my sports teams. There was once when I was in San Diego when I went to use the bathroom, when I was in a bar watching a game. My team intercepted the ball and ran it back down for a touchdown. So I spent the whole second half in the bathroom and had the waitress bring me my beer to the bathroom. It did not work but I'm still that superstitious. If I'm watching a game and my team isn't doing well, I'll change my shirt or hat in order to find the right combination for it to work itself out. I think that's about as weird as I get.
Do you have any fun hobbies that you like to do in your spare time?
I like to fish, golf, I make my own fishing lures. I've tried tying flies but I'm not a big fly fisherman. I make my own spoons and my own spinners, I'll tie the rooster tail to a spinner and use those.
Is there anything I didn't mention that you'd like to add?
I'm one of the few marine biologists that came from Kansas. I still have a house, fiancé, dog, and a stepdaughter in Kansas. I'm originally from West Virginia, so you don't have to be from the coast to get interested in marine biology. I'm enjoying the seafood here in Maryland but I would still take a Dungeness crab over a Blue crab any day as far as eating them goes.