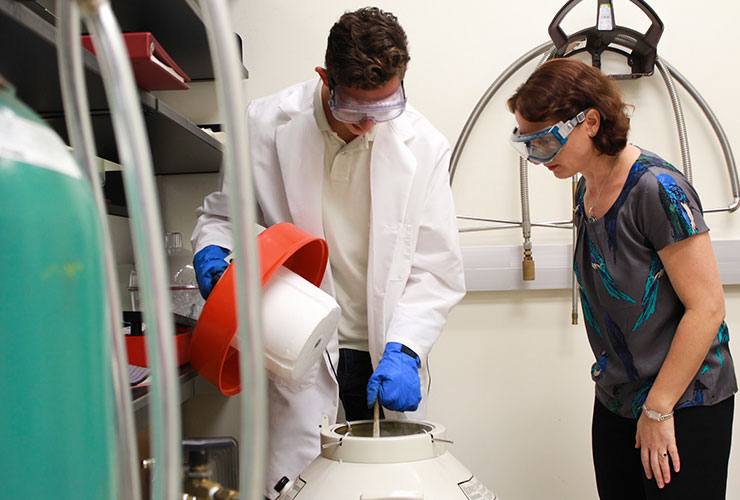 Students enrolled in chemistry and biochemistry courses and those doing laboratory research have access to many modern laboratory instruments.
Equipment:
JEOL 400 MHz FT-NMR (NSF 0088228)
Agilent 6890/5973 GC-MS (NSF 9851032) w/ autosampler
Agilent 7890 GC-FID w/dual autosamplers and detectors
Varian CP-3800/1200 GC-Triple Quad MS
Teledyne Combiflash
Dionex ICS-2000 Ion Chromatography System
Spectro Midex ED-XRF
Perkin Elmer Optima 4300DV ICP-OES
Innovative Technologies Glovebox
Nicolet 6700 FTIR with Golden Gate ATR
Jasco 4200 FTIR with ATR
PTI Fluorometer w/near IR and FP capability
Thermo Labsystems Multiskan Ascent Microplate Reader
SpectraMax M2 Luminescence Plate Reader (shared w/Biology)
Finnigan Surveyor Plus HPLC
Finnigan LC Q Deca MS
Varian Cary 50 Bio UV-Vis Spectrophotometer
Akta Prime FPLC
Johnson Matthey Magnetic Susceptibility Balance
Sorvall Legend RT Centrifuge
Laptops at every laboratory station
Lulz Mini 3D Printer
Perkin-Elmer Voltammetric Analysis System
Laboratory Assistant Program
Students obtain valuable experience working for the department.
For more information about becoming a laboratory assistant, contact Kelly Neiles (kyneiles@smcm.edu).
SURF (St. Mary's Undergraduate Research Fellowship)
SURF is an eight-week annual summer program at St. Mary's, where students from a variety of disciplines delve into research topics of their own aspirations with guidance from faculty mentors.
The SURF symposium held in early July culminates with the presentations of research projects to an audience of your peers and professors. Approximately 10 to 12 students participate in SURF each summer since it started in 2012.
The program is selective, with a fifty-percent acceptance rate.
SURF is made possible by support from the Andrew W. Mellon Foundation in addition to a number of internal funding sources. A portion of the funds go toward a stipend for the students, as well as room and board for the eight weeks.
Internships & External Research Opportunities
Many St. Mary's chemistry students spend their summers doing research off-campus. These experiences enrich the students' lives and education.