Professor of History Christine Adams' new book, "The Creation of the French Royal Mistress: From Agnès Sorel to Madame Du Barry," (2020, Penn State University Press) is now available.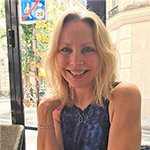 The description: "Kings throughout medieval and early modern Europe had extraconjugal sexual partners. Only in France, however, did the royal mistress become a quasi-institutionalized political position. This study explores the emergence and development of the position of French royal mistress through detailed portraits of nine of its most significant incumbents: Agnès Sorel, Anne de Pisseleu d'Heilly, Diane de Poitiers, Gabrielle d'Estrées, Françoise Louise de La Baume Le Blanc, Françoise Athénaïs de Rochechouart de Mortemart, Françoise d'Aubigné, Jeanne-Antoinette Poisson, and Jeanne Bécu."
Adams is the author or coeditor of four books, including "A Taste for Comfort and Status: A Bourgeois Family in Eighteenth-Century France." Her current book is co-authored by her sister Tracy Adams, professor of French in the School of Cultures, Languages and Linguistics at the University of Auckland.