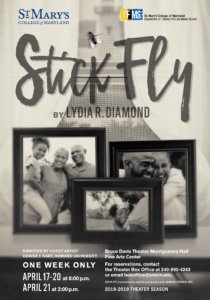 The affluent African American LeVay family gathers at their Martha's Vineyard home for the weekend, and brothers Kent and Flip have each brought his girlfriend home to meet the parents for the first time. Kent's fiancée, Taylor, an academic whose absent father was a prominent author, struggles to fit into the LeVay's upper-crust lifestyle. Kimber, on the other hand, a self-described WASP who works with inner-city school children, fits in more easily with the family. Joining these two couples are the demanding LeVay patriarch, Joe, and Cheryl, the daughter of the family's longtime housekeeper. As the two newcomers butt heads over issues of race, class, and privilege, long-standing family tensions bubble under the surface and reach a boiling point when secrets are revealed. A must-see show!
Following the performance on Wednesday, April 17, we invite the audience to remain for an open, informal discussion of Stick Fly with director Denise J. Hart, cast, and crew. Refreshments will be provided.
"Stick Fly" performs on the following dates and times:
April 17-20 at 8:00 p.m.
April 21 at 2:00 p.m.
Ticket prices are $4.00 for faculty, students, SMCM staff, senior citizens, and Arts Alliance members; $6.00 general admission.
For reservations, email the Theater Box Office at boxoffice@smcm.edu or telephone 240-895-4243 (ext. 4243).
Patrons must pick up their reserved tickets at the Box Office window by 7:50 p.m. for evening performances and by 1:50 p.m. for matinée performances; otherwise, unclaimed tickets will be released for sale.